Maryville Recognized for Community Service Efforts
---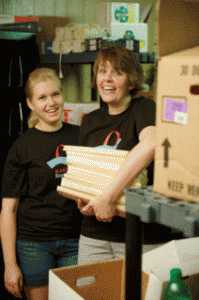 6/9/10
Maryville University has been named to the President's Higher Education Community Service Honor Roll, which recognizes institutions of higher education for their commitment to and achievement in community service. More than 1,400 Maryville students engaged in community service activities during the 2009-2010 academic year, logging nearly 18,800 total hours.
"Inclusion on the honor roll is validation of the good work that our faculty and staff are doing to ensure that community service is part of the Maryville experience," said Alden Craddock, PhD, associate vice president and director of the Center for Civic Engagement. "It is recognition of Maryville's commitment to community service through both academic and non-academic programs."
The largest campus-wide initiative is Maryville Reaches Out, an annual day in the fall when classes are canceled and the entire Maryville community – students, faculty, staff and alumni – devote their time and talent to helping out approximately 70 service agencies located throughout the Greater St. Louis region.
The Honor Roll is the highest federal recognition a college or university can receive for its commitment to volunteering, service-learning and civic engagement. The Corporation for National and Community Service announces the annual Honor Roll award recipients, recognizing more than 700 colleges and universities for exemplary, innovative, and effective community service programs.
The Corporation oversees the Honor Roll in collaboration with the Department of Education, Department of Housing and Urban Development, Campus Compact and the American Council on Education. Honorees are chosen based on a series of selection factors including scope and innovation of service projects, percentage of student participation in service activities, incentives for service, and the extent to which the school offers academic service-learning courses.
"Congratulations to the awardees and students for their dedication to service and commitment to improving their local communities," said Patrick Corvington, the Corporation's CEO. "Our nation's students are a critical part of the equation and vital to our efforts to tackle the most persistent challenges we face. They have achieved impactful results and demonstrated the value of putting knowledge into practice to help renew America through service."
College students make a significant contribution to the volunteer sector; in 2009, 3.16 million students performed more than 300 million hours of service, according to the Corporation.
About Maryville University
Founded in 1872, Maryville University is a four-year, private university located in west St. Louis County. Ranked by U.S. News & World Report as one of America's Best Colleges in the Masters-Midwest category, Maryville University students may choose from 50 academic programs, including degrees at the bachelor's, master's and doctoral levels. Among recent graduates, 82 percent are employed or attending graduate school. More than 16,000 Maryville alumni work and live in the St. Louis region.