'Maryville Reads' Book Selection Announced
---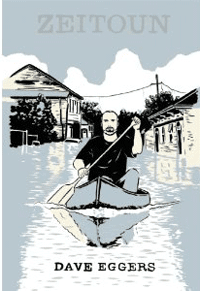 8/15/10
Maryville Reads, a program that began four years ago with The Freedom Writer's Diary,  is now a tradition on the Maryville campus. The program provides students, faculty and staff with a book selection that unites the campus through discussion. This year's selection is Zeitoun, by Dave Eggers.
"The Maryville Reads program is a collaborative effort between the University Library and Multicultural Programs," said Danielle Carter, director of multicultural programs.
" Both areas of the University are interested in reading and literacy; the books chosen relate to social justice issues, which can involve campus-wide discussions,"  said Genie McKee, PhD, dean of the University Library.
The Maryville Reads book was selected by a committee of students, faculty and staff. Carter said the selection this year is relevant because August 25 is the fifth anniversary of Hurricane Katrina.
Zeitoun is the story of Abdulrahman Zeitoun, a Syrian-American owner of a painting and contracting company in New Orleans. When Hurricane Katrina hit, Zeitoun stayed behind to keep tabs on his business customers and help his neighbors, while his family fled to safety. Although he was trying to help, Zeitoun was arrested and had no way to contact his family during his confinement.
Complimentary copies of the book have been provided to first-year students, faculty and staff. During the second week of the semester, returning students will have the opportunity to pick up a free copy at the University Library. A limited number of copies are available.
Once the school year is underway, the campus community will be encouraged to take part in various events related to Zeitoun.