Maryville Mourns the Loss of Community Leader and Philanthropist Earl E. Walker
---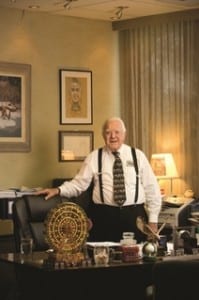 The entire Maryville community extends its deepest condolences to the family and friends of Earl E. Walker, who passed away suddenly on Friday, August 26, at the age of 91.
A lifelong Kirkwood resident, Mr. Walker co-founded Carr Lane Manufacturing Co. with his wife of 68 years, Myrtle E. Walker. Together, the Walkers grew the business from a modest garage shop with five employees to a highly successful, global operation with more than 250 employees and seven subsidiaries. Despite this tremendous success, Mr. Walker never forgot his humble beginnings, or the importance of helping others less fortunate.
"I come from a family of three brothers and three sisters. We didn't have much, so I was brought up to share," said Mr. Walker. "If my mother had only two potatoes, she would be glad to give you one."
With that same generous spirit, over the years the Walkers have supported many important
St. Louis initiatives for buildings, centers, scholarships, programs, parks and more. The softest part of his heart, however, was reserved for young children in need.
Years ago, Mr. Walker obliged a request from his best friend, the late Les Denney, to help fund a new clinic' The Walker Scottish Rite Clinic for Childhood Language Disorders. 22 years later, more than 14,000 young children in the greater St. Louis area have received professional speech and language therapeutic services at no cost to their families.
Reflecting this concern for others less fortunate and the steadfast belief in the value of an education, Earl and Myrtle Walker made a major gift to Maryville University in 2010, naming the new planned building for the School of Health Professions: Earl E. and Myrtle E. Walker Hall. Mr. Walker received an Honorary Doctorate of Humane Letters from Maryville University in 2009.
"In my travels, Mr. Earl Walker is one of the most remarkable men I have known. He combined the qualities of successful businessman, compassionate civic leader, generous benefactor and good friend like no other. His philanthropy will live on in generations of young people who will benefit from his kind heart and vision," says Mark Lombardi, PhD, president of Maryville University.
Mr. Walker is survived by his wife, Myrtle, four children and seven grandchildren.
There will be a public tribute to Mr. Walker at Kirkwood High School on September 18. The Dec. 2010 Maryville Magazine article on the Walkers can be found here.