Maryville Instructor Named Olin Cup Finalist
---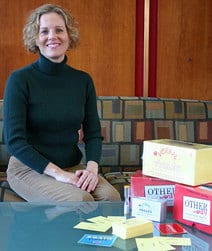 12/11/08
As one of five finalists in the Olin Cup Competition for entrepreneurs, it's the home stretch for Kristin Edmonds, M.M., M.A., CCC, co-owner of Mindfull Games, an educational word game company. Edmonds, an adjunct music therapy instructor at Maryville University, entered her business in the competition last spring.
Two winners will be announced in February. The first place winner will receive $50,000 and the second place winner will receive $20,000. The competition is sponsored by the Skandalaris Center for Entrepreneurial Studies, in collaboration with Washington University's John M. Olin School of Business.
Edmonds co-owns Mindfull Games with her mother, Naomi Edmonds, a retired elementary school educator and speech therapist, and her father, Robert Edmonds M.D. FAAP, a Washington University professor of pediatrics emeritus, with a Kennedy Fellowship in Neurodevelopmental Pediatrics from Johns Hopkins. The competition process began last April, when they posted the company profile on the ideabounce Web site. In late October, they were named as one of 16 semi-finalists based on the executive summary competition. Edmonds then presented a two-minute "elevator pitch" to a panel of 20 judges who were venture capitalists, lawyers, professors and community leaders. Last month, Mindfull Games was named one of five finalists.
"It has been surprising to find out that being an entrepreneur is such a creative process," Edmonds said. "When I was younger, I never imagined going into business because I considered it a dry subject. I wasn't a math fan, and I thought business was all about counting money. I have now found that many entrepreneurs are artistic types."
Along with teaching, Edmonds is also a speech pathologist in private practice. She has worked as a voice therapist, pediatric speech pathologist and as a classical singer. Currently, she is an adjunct instructor in music therapy at Maryville University, where she teaches voice and vocal techniques.
Entrepreneurship, she discovered, draws on professional skills developed throughout her career.
"I really enjoy creating educational products which are backed by science. It lets me use my clinical science, teaching and artistic skills at the same time," she said. "When I gave my business pitch for the Olin Cup judges and audience, I realized for the first time how valuable my performance training can be in the business world."
The company currently offers two products, "Other Wordly" and "Verbal Volley," both card games that use research-based practices to address standardized test material. Other Wordly is designed to teach commonly tested SAT/ACT* words to high school students.
"By incorporating Other Wordly, teachers who are required by law to use research-based practices for standardized tests can do something fun in class," Edmonds said.
The second game, Verbal Volley, focuses on high frequency and concept words used at the elementary level. Edmonds targets product sales to school districts, clinics, childcare programs, tutoring franchises, speech therapists and special education teachers.
"I am the primary salesperson for Mindfull Games right now," Edmonds said. "Because I'm selling products which I believe in, I'm having great fun."
Edmonds has several goals if her company is named an Olin Cup winner. Her first priority is to change the packaging for retail distribution and rename Other Wordly as Verbal Volley, College Prep Edition.
"I'm also hoping to do search engine optimization for my Web site so I can reach more people through it, and I'm looking into creating a new kind of internet game using my copyrighted materials," she said.
Along with technology advisors, Edmonds is working on developing a social network for Other Wordly players so they can prepare for an upcoming scholarship competition via internet play.
"Verbal Volley Showdown," a college scholarship tournament sponsored by Mindfull Games will be held on the Maryville University campus on Sunday, March 1, 2009. Three scholarships totaling $2200 will be awarded. For more information and applications, contact Kristin Edmonds by phone at 636.391.2629 or 314.324.8686, or via the Mindfull Games web site.