Maryville honors Janene Reeves, '02, '03 with Helen May Bradley Award
---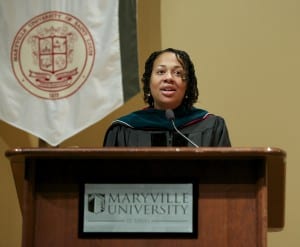 12/4/12
ST. LOUIS   – Maryville University has awarded its Helen May Bradley Award to alumna Janene M. Reeves, who leads a team of more than 50 physical therapist at Barnes-Jewish Hospital. The award, in memory of the first physical therapist from Missouri  – Helen May Bradley, recognizes an individual's outstanding achievement to physical therapy in the areas of expert clinician, professional, reflective practitioner and educator.
Reeves has worked closely with oncology patients and is particularly knowledgeable about effective care for those receiving bone marrow transplants to aid in strength and recovery. She has presented on this topic through lectures and poster presentations, both in classrooms and with other professionals through the Missouri Physical Therapy Association, the American Physical Therapy Association, the American Society for Bone and Marrow Transplantation, the SIUE Nurses Researcher Society and the Interdisciplinary Research Conference Board at Barnes-Jewish Hospital.
Reeves, a Ferguson resident, has served in many professional and community service roles at Maryville University, Barnes-Jewish Hospital, Washington University, the American Physical Therapy Association, and Harvest Church of St. Louis. She has served on the American Physical Therapy Association's Diversity Task Force.
Reeves graduated from Maryville University with a bachelor's degree in health sciences in 2002 and a master of science in physical therapy in 2003.  After gaining some professional experience, she later attended Boston University where she earned her doctorate in physical therapy.
Reeves is married to Jason Reeves and is the mother of three. She received the award on Dec. 8 at Maryville's School of Health Professions' hooding ceremony.