Maryville educators honored for teaching excellence
---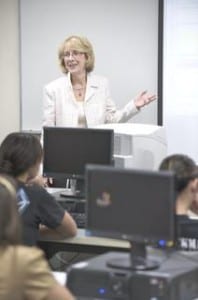 1/18/12
Three members of the Maryville University community have been recognized recently for their teaching abilities, whether creating a unique curriculum to bring a subject to life or by helping students gain new skills and understand new concepts through innovative classroom work.
Associate Professor of Accounting and Economics Karen Tabak
Maryville University Associate Professor of Accounting and Economics Karen Tabak, PhD, won a prestigious accounting curriculum award from The American Institute of CPAs. She is the recipient of the 2011 George Krull/Grant Thornton Teaching Innovation Award for junior and senior-level accounting courses. She'll be recognized for the accomplishment this summer in Washington, D.C.
Tabak was invited to give a presentation on her unique approach to teaching an accounting capstone course at an American Accounting Association meeting in Denver last year. Her lesson "From Pacioli to Picasso: Using Art to Enhance Critical Thinking in Accounting Capstone Course," begins with asking students to write their names on a card and draw a picture of why they are studying accounting. It's meant to illustrate how difficult it is to tell a story with pictures and symbols. She then shows her class a famous painting and asks pairs of students to come up with 10 questions about it. From there, students explore what story they think the artists is trying to tell. The class then transitions into lessons about financial statements and how to use accounting principles to do a better job telling a business' story using the company's own economic situation.
The title of her presentation is a reference to Fra Luca Bartolomeo de Pacioli, a 15th century Italian mathematician and Franciscan friar recognized for his early contributions to the field now known as accounting , and to one of the paintings she has used to begin the class by the renowned artist Pablo Picasso. Her curriculum will be added to The American Institute of CPAs' new curriculum tool for members, the Accounting Professors' Curriculum Resource. Tabak said she got the idea after the Dr. Mary Ellen Finch Center for Teaching and Learning provided funding for her to take an online class through a Harvard teaching program. "At Maryville, you get to bring your creativity to teaching," she said. "There's a focus on how students learn best, not necessarily how I teach best."
Alumna and Adjunct Professor Amy George
Maryville alumna and adjunct professor Amy George, '85, '95, '05 has been selected as the Higher Education Art Educator of the Year by the Missouri Art Education Association. She was recognized for her commitment to teaching, her involvement in Missouri Art Education Association activities, her leadership roles, professional accomplishments and teaching-related contributions. In addition to teaching at Maryville, George works as an art teacher at Wohlwend and Blades elementary schools and at St. Charles Community College.
George, a Richmond Heights resident, says she believes it's not enough to be good at something, rather a person should have a passion for what they're doing. She loves teaching students of all ages, especially those who retain their child-like creativity.  "My approach is you're never too old to learn, and with creativity and art there are never any hard and fast rules." She says she teaches foundational skills, but encourages students to take those skills in a new direction or to use them in a way that works for them.  George will receive her award March 24. She has her BFA and two master's degrees in education and educational leadership from Maryville. She is also an MFA candidate at Kansas State University, where she studied sculpture.
Of her passion for teaching, she says, "It really comes from Maryville — I don't say this lightly- It was the professors that I had that inspired me."
Adjunct Professor John Gerdes
Maryville University Adjunct Professor of Music John Gerdes has received two recent awards for his work teaching at the Compton-Drew Investigative Learning Center Middle School in St. Louis. Gerdes has been recognized as the St. Louis Public Schools' Music Teacher of the Year at the secondary level. He also received an Office Max Day Made Better Award, after being nominated for the quality of his teaching. Gerdes began teaching at Maryville University in the fall of 2004. Gerdes, a Rock Hill resident, teaches the History of Jazz as a general education, fine arts class and Orchestration and Arranging for music majors. Whether he's teaching middle school students or the University's music majors, he strives to make their learning meaningful, explaining how jazz is part of the fabric of American culture or giving music majors an education that will provide skills needed for professional careers. "I try to make music useful to everybody and what they do in their everyday lives." Of the recognition, he said, "It's not the reason I do it, but it's humbling and gratifying to be recognized by my peers." Gerdes has his master's degree in Music Theory and Composition from Southern Illinois University Carbondale.