Maryville University Names Marcia Sullivan Vice President for Integrated Marketing & Communications
---
4/21/14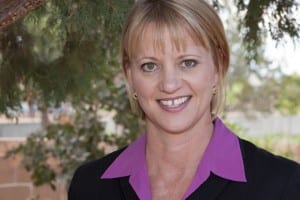 [St. Louis, Mo.]—Marcia ('Marci') Sullivan has been appointed vice president of Maryville University's newly reorganized Office of Integrated Marketing & Communications, effective June 1. Sullivan will be responsible for all major branding, marketing and communications initiatives for the University.
"Marcia Sullivan brings a wealth of corporate and higher education experience to this position," said President Mark Lombardi. "She has an outstanding track record of implementing integrated strategies that enhance and augment an institution's image.  We are lucky to bring her on board."
Sullivan currently serves as president of St. Michael's High School in Santa Fe, N.M. She has more than 25 years professional experience in both business, nonprofit and higher education management roles, with extensive background in marketing and institutional advancement.
She has also held various marketing and development positions in New York City in the arts, including at The Joyce Theatre, and in the corporate giving and government affairs sector, serving as director of corporate contributions and government affairs at Philip Morris Companies and Altria Group. Sullivan also served as director of development for SITE Santa Fe, and was director of college relations and vice president for administration and communications at the College of Santa Fe.
"Maryville is enhancing and developing new degree programs, and its online and residential student enrollment is among the fastest growing in the nation," said Sullivan. "I am excited to work at this dynamic University and help create awareness of its many successes."
Under Sullivan's direction, the Office of Integrated Marketing & Communications will report directly to the President and will oversee marketing strategy, publications, media relations, internal communication and all interactive media, including the website and social media.
Contact Marci Sullivan: marcia.sullivan@maryville.edu; 314.529.9340
Maryville University is a selective, comprehensive and nationally ranked private institution with an enrollment of 5,033 students. Maryville offers more than 75 degrees at the undergraduate, masters and doctoral levels to students from 46 states and 30 countries. Consistently ranked as a top private school by Forbes and Kiplinger's, in 2012 and 2013, Maryville was named the No. 1 Overperforming University in the nation by U.S. News & World Report. Maryville's athletics teams compete at the Division II level in the Great Lakes Valley Conference. Founded in 1872, the University is ideally situated on 130 picturesque acres in West St. Louis County.