Linda Schultz, PhD, CRRN
---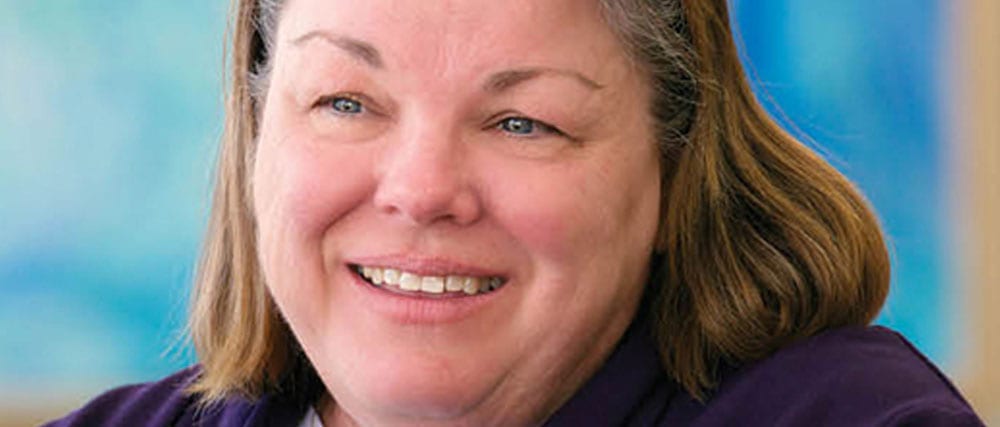 Creating a Learning Matrix
Moving from the traditional, or "on-ground," classroom to a new education platform has been a learning experience for nursing students studying online. Instructors, too, face a personal learning curve, said Linda Schultz, PhD, CRRN, assistant professor of nursing for the Catherine McAuley School of Nursing in the College of Health Professions.
When the nursing program began offering online programs in 2012—including a master's (MSN) and doctor of nursing practice (DNP)—Schultz worked with a course developer to adapt her courses to the new format. She continues to identify innovative ways to present materials. "The first thing I learned was that you can't take an on-ground class to online," she said.
In a traditional classroom, Schultz tended to teach in a linear fashion. "Online, teaching is more like a matrix," she explained, "and I've shifted my on-ground teaching to reflect that same approach. Technology provides so many more pathways to learning."
Shaun Mendel, CRNA, lives in Arizona. He is pursuing his DNP, a program offered entirely online, and expects to graduate in May. Mendel appreciates the technology utilized in a virtual classroom. For example, he said, "What would originally have been a lecture frequently becomes an interactive module."
By design, nursing courses are tightly woven and connect across the curriculum. "That's really unusual; lessons don't often relate from class to class or course to course," Schultz said. Final research projects are developed in conjunction with each course in the program—this ensures students are not left on their own to complete the capstone work, she said.
Michigan resident JoAnn Maklebust, MSN, APRN-BC, AOCN, FAAN, is a nurse practitioner in surgical oncology and a clinical nurse specialist in wound care. She expects to graduate from Maryville's online DNP program in August. Earning a doctorate is a lifetime goal, she said.
Despite their distance, Maklebust says she easily "clicked" with Schultz, who is also her doctoral adviser. "She loves nursing and so do I. I feel like I can really share my nursing dreams with her," Maklebust said. "I hope one day to meet her in person so I can thank her for helping me to reach higher."
Schultz schedules "office" hours twice a week, during which time students log on and ask questions. She responds to emails daily.
"Through email, and because I read the discussion boards, I get to know my students very well," Schultz said. "I can chronicle their progress. If someone isn't integrating the concept, I give targeted feedback. Or, if they don't understand something, they can ask about it in their group. Students become very close; they rely on each other. I've noticed that people who would never ask a question in a traditional class are comfortable doing so online."
Maklebust and her classmates spoke to one another regularly via discussion boards or Skype. "Our experiences were varied and extensive but one could easily tell that we were all nurses. This gathering of nurses from near and far became a close-knit group who cheered each other on." At some point, they even traded family photos, she said.
Both Mendel and Maklebust said an unexpected positive was the diversity of students in their courses. "This program embraces diversity in professional experience that creates a fascinating environment. The instructors and students in these courses represent primary care, mental health, rehabilitation and many other nursing specialties," Mendel said.
Online instruction takes teaching to a whole new level, Schultz said. "I love teaching online. I'm really entwined with students, and I enjoy seeing them grow on their own. Whatever they put into it is what they get out of it. Once they hit a certain threshold of understanding about that, they get really excited about learning."