Kiener Named Director, Rehabilitation Services and Counseling Programs
---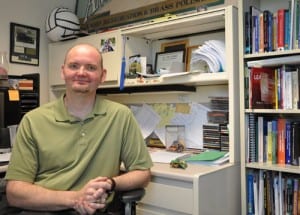 4/21/11
Michael Kiener, PhD, CRC, associate professor, has been named director of the Maryville University Rehabilitation Services and Counseling programs. About 85 students are currently enrolled as undergraduate and graduate students in the programs.
Kiener had previously served as interim director since last August, when Barbara Parker, then director, passed away suddenly.
"It has been a total team effort between faculty, staff and students to make sure things have not only continued to be accomplished, but improved in the process," Kiener said.
Going forward, Kiener expects to announce new and enhanced community partnerships that will complement student classroom work and provide additional internship and practicum experiences.
"We've always been community-focused, but that will continue to grow," he said. "For example, we plan to work more closely with the newly revamped Eastern Chapter of the Missouri Rehabilitation Association and St. Patrick Center."
Maryville alumna Kimberly (Reichert) Chaplin, '08, is president-elect of the chapter.
"Our relationship with Kim will allow us to provide additional opportunities for students to network with other Maryville graduates and with professionals in the field," Kiener said. "We're working on developing new internship practicum with MRA agencies."
For the past four years, Kiener has volunteered as a rehabilitation counselor and last fall was named to the St. Patrick Center Board of Directors.
"I work primarily with clients just coming out of prison and adjusting to their 'new normal,'" he said. "Our increased involvement at the Center will result in more internships and the hiring of more Maryville graduates."
An active group, Maryville University's Student American Rehabilitation Counseling Association (MUSARCA), has raised more than $12,000 in three years for the Megan Piontek Scholarship fund, established in honor of a former student and benefiting undergraduate and graduate rehabilitation counseling students.
Kiener is co-chair of the Distance Education Council for the National Council on Rehabilitation Education. He also serves as a reviewer for Rehabilitation Counselors and Educators Journal and as a member of the Advisory Board for Maryville's Finch Center for Teaching and Learning.
Through his work with the Finch Center, Kiener has developed the Theory of Mutual Engagement—an assessment that studies how students interact with other students, with the classroom instructor and with course materials. He is currently creating reliability and validity data on the assessment.