Judge Jimmie M. Edwards to speak at Maryville University's Commencement
---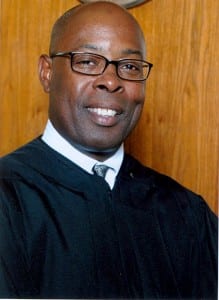 4/16/12
ST. LOUIS  —  Maryville University President Mark Lombardi announced today that the Honorable Jimmie M. Edwards of St. Louis will speak at the University's Commencement Exercises at 10 a.m. Saturday, May 5, on campus.
Judge Edwards will also receive Maryville University's John E. Simon Civic Service Award, named in honor of the late St. Louis businessman, philanthropist and Maryville University Trustee. The award recognizes Judge Edwards for bringing hope to troubled youth by pioneering the Innovative Concept Academy, an alternative school in St. Louis that has turned juvenile delinquents into college-bound high school graduates.
"Judge Edwards' work is truly inspirational and his belief in the power of education is apparent," Lombardi said.  "We are very pleased he has accepted our invitation to address our graduates and their families."
Judge Edwards said he looks forward to Maryville's commencement. "I know all too well the importance of a solid education," he said.  "It is the key to a successful life, it is the message that I instill in every juvenile who appears in my courtroom and I am honored for this opportunity to address the graduates of Maryville University and congratulate them on this significant achievement in their lives."
Maryville will celebrate its 139th commencement ceremony in an outdoor ceremony where more than 900 degree candidates will be honored.
Judge Edwards opened the Innovative Concept Academy with help from the St. Louis Public School District, MERS Goodwill Industries and numerous other supporters in 2009. The school provides a life-changing alternative to incarceration for many of its 350 students and creates a structured and disciplined atmosphere where students focus on mathematics, sciences and history. As they learn academics, the students also learn about opportunities gained through education—opportunities that often seem out-of-reach for families with histories of multi-generational poverty and crime.
Judge Edwards' inspiring compassion and his ability to analyze and create solutions have garnered considerable national attention. In 2011, People magazine named him one of its Heroes of the Year. He told the magazine that children who enter Innovative Concept Academy often have nightmares instead of dreams. As they are encouraged and taught, the students are exposed to new possibilities as they learn how to dream and hope for a better future.
The Early Show (CBS) and NBC's Today Show have featured Judge Edwards and his work at the Academy, and many organizations and individuals—including retail giant, Walmart—have provided various kinds of support, such as funding for computers, programs in the arts and classroom tools and supplies. Now when juvenile offenders appear before him, Judge Edwards, a senior member of the circuit bench in St. Louis, has a viable sentencing option other than incarceration.
Former Missouri Governor John Ashcroft appointed Judge Edwards to the court in 1992. Judge Edwards has since served in various capacities on the court and has been its Chief Juvenile Court Judge for the past five years.
Judge Edwards' ties to education are strong. He teaches law-related courses at Sanford Brown College and is a visiting lecturer at Washington University School of Law.  He also serves as Special Missouri Supreme Court Judge and chairs the Missouri Supreme Court's Records Committee.
Judge Edwards grew up in St. Louis in the same neighborhood where the Innovative Concept Academy is located.  He earned both his undergraduate degree and his law degree from Saint Louis University in 1978 and 1982, respectively.
He and his wife, Stacy Maria Edwards, live in St. Louis and have three grown children: Murphy, Ashley and John.
Maryville University in suburban St. Louis enrolls nearly 3,900 students and offers more than 50 undergraduate, 10 master's and four doctoral degree programs. U.S. News and World Report ranks Maryville among the "Best National Universities" in 2012. Maryville is private, independent and affordable with 91 percent of undergraduates receiving financial aid.