Jesse Kavadlo, PhD
---
A Novel Approach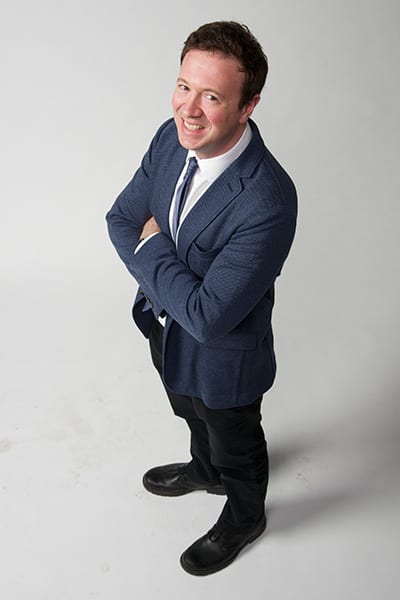 College catalogs consistently feature standard English courses like English Composition and American Literature. Thanks in part to Jesse Kavadlo, professor of English and humanities, Maryville's catalog also offers offbeat classes on topics such as aliens and superheroes.
"I've always wanted to teach the kinds of classes that I wanted to take as a student," Kavadlo says.
In Kavadlo's course titled Aliens to Zombies: Monsters in Literature and Film, students critique novels and movies to find commonalities. They study the likes of Dracula and Alien, and Frankenstein and Jurassic Park.
Another course created by Kavadlo, Reading Rock and Roll, looks at music-related novels decade by decade to better understand the changing culture. Conspiracies in Literature and Film examines conspiracies on the page, on the screen and in culture. Superheroes in Popular Culture uses movies and graphic novels to analyze the similarities and differences in depictions of heroes since the 1930s.
"I've always felt very strongly that understanding aspects of what's happening in popular culture can allow students to ask some very important questions about themselves and how literature works, even though they are having fun at the same time," Kavadlo says.
Integrating popular culture into a traditional subject area engages students who might otherwise only take English courses to fulfill a requirement and inspire creativity by encouraging new ways of thinking, says Kavadlo. The unusual approach resonates with students.
"He's a very popular professor so it's difficult to get into his classes," says Samantha Martin, a senior psychology and sociology major. "He's passionate about the novels and stories that we read. He wants us to understand them on a deeper level."
Kavadlo's teaching style is as responsible for his popularity as the interesting classes he offers. Matthew Wigley, a senior English major, says Kavadlo is a dynamic professor who encourages his students to get involved in discussions, think critically, use their imaginations and work hard.
"I have never walked away from one of his classes wishing I'd taken something else," Wigley says. "I have grown as a writer, and more importantly as a person. I have always felt it was an environment that oozed intrigue and sprouted knowledge. "
(First published in the Spring 2015 edition of Maryville Magazine)