Interior Design Student Wins National Contest
---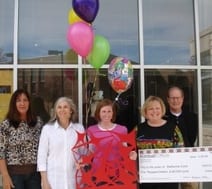 3/30/09
The Maryville University Art & Design building hummed with excitement recently as Katherine Conti, senior interior design student, was surprised in class with news of her winning entry in a national design contest. Sponsored by Kimball Office, company representatives awarded $5,000 to Conti, along with an all-expense paid trip to Chicago in June for the annual NeoCon® World's Trade Fair design show.
"I'm absolutely thrilled, it's such an incredible honor to be recognized in this way," Conti said.
The challenge was to create a new See Me Screen™ design for the product line, "Hum. Minds at Work™." The screen provides a visual desk boundary to filter distractions, while still allowing colleagues to work face-to-face on projects.
Open to both students and professional designers, Kimball representatives said only about 20 percent of the 200 entries received were submitted by students. Judges were Kimball staff members, as well as designers from the New Zealand firm that developed the original product.
"Katherine did a great job of making the connection between the cognitive sciences and her screen design that plays on the neuron activity," said Sandy Horton, Kimball marketing representative.
"The product tag line, 'Minds at Work,' made me think immediately of neurons firing. I just took the concept and ran with it," Conti said. "I am so pleased that the judges felt my design satisfied the established criteria not just on an aesthetic level, but on a conceptual and a functional level as well."
Kimball representatives were in St. Louis for the Interior Design Educators Council (IDEC) conference, which was hosted by Maryville University. When they arrived on campus to surprise Conti, they brought a prototype of the actual design she submitted. Conti's screen design will also be displayed in the Kimball Office Chicago showroom.
"I am very proud of Katherine and Maryville University. It's an honor and a thrill to have the winner of this contest represented in my hometown," said Michele Helsel, local sales manager for Kimball.
Conti transferred into Maryville's interior design program in fall of 2006, after receiving a B.A. in Spanish from Rhodes College in 1996 and a master's degree in art history from the University of Denver in 2003.
"I moved back to St. Louis after graduate school, and it was then that I finally realized what I was meant to pursue: interior design," Conti said. "I studied for six months in Paris and took a few classes at Meramec Community College upon my return so that I had enough of a portfolio to submit to Maryville."
"Katherine's strong concept and professional execution resulted in a beautiful design," said Darlene Davison, director of Maryville's interior design program and associate professor. "We are extremely proud of her accomplishment."
Maryville University, founded in 1872, is a four-year, private university located in west St. Louis County. Ranked by U.S. News & World Report as one of America's Best Colleges in the Masters-Midwest category, Maryville University students may choose from 50 academic programs, including degrees at the bachelor's, master's and doctoral levels. Among recent graduates, 94 percent are employed or attending graduate school. More than 15,000 Maryville alumni work and live in the St. Louis region.