OPENING RECEPTIONS
Thursday, April 5 | 5 – 8 p.m. | Morton J. May Foundation Gallery at Maryville University
Friday, April 6 | 6:30 – 8:30 p.m. | Delmar Gallery at Craft Alliance Center of Art + Design
About the Exhibitions
Craft Alliance Center of Art + Design and Maryville University present I.M.A.G.I.N.E. Peace Now, a powerful traveling exhibition created as a positive response to the rising tide of gun violence in America. Conceived by metalsmith Boris Bally and brought to St. Louis through the help of his long-time collector Michael Staenberg, the exhibition features works by some 100 artists who have crafted sculptures using decommissioned firearms collected during community buy-back programs.
Throughout history, artists have served as the voices and illustrators of movements for change. Bally asked contemporary artists to use their unique skills and perspectives to advocate for positive change in response to gun violence. The works in the exhibition highlight the skill and beauty—as well as the danger and fear—evoked by metalsmithing techniques and materials that form both sculptures and guns alike. These artworks demonstrate respect for the craft that goes into making weapons even as they critique the deadly purpose of those objects.
---
"The Innovative Merger of Art & Guns to Inspire New Expressions, or I.M.A.G.I.N.E. Peace Now exhibition, is a call to arms, hearts and hands … for contemporary metal artists. Included work responds to, and initiates conversations regarding, the gun violence so prevalent in American culture today."  ~ Boris Bally, Curator
---
---
"A gallery is a place where art is expected. Guns are not the usual media. These objects made from deactivated guns change their relationships in this new setting. The shock of a visual can stimulate thought, reflection and reassessment. This dialogue is the responsibility of a University." ~ John Baltrushunas, MFA, associate professor and director of the Morton J. May Foundation Gallery
---
EXHIBITION DETAILS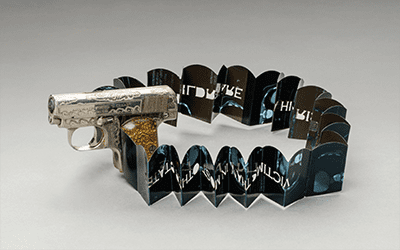 I.M.A.G.I.N.E. Peace Now, Boris Bally, Curator
April 5 – May 13, with a portion of the total collection on view at Maryville University's Morton J. May Foundation Gallery and at Craft Alliance Center of Art + Design.
Boris Bally will present a Curator's Talk from 5:30-6:30 p.m. at the Craft Alliance Delmar Gallery. The talk is free and open to the public.
Opening Reception from 6:30-8:30 p.m.
Conversation Towards Peace – Panel Discussion
April 5, 7 p.m.
Maryville Auditorium
A week of events complementing the exhibit begins with "Conversation Towards Peace," a co-hosted panel discussion moderated by 5 On Your Side anchor Art Holliday. Panelists include metalsmith / activist / organizer Boris Bally; Geriann Brandt, director of Maryville University's Criminal Justice program; and Becky Tingle, CRC, CLPC, child therapist with Alive, Inc. (Other panelists may be announced.) They will discuss the effects of gun violence in our everyday lives.
Author Reading
Matt Donovan, Gun Shy
April 12, 4 p.m.
Maryville Auditorium
Maryville University will host a non-fiction reading at 4 p.m. on April 12 by author Matt Donovan, a Santa Fe writer who will read excerpts from Gun Shy, his book-length work-in-progress that delves deep into America's gun culture. Donovan is the author of the essay collection A Cloud of Unusual Size and Shape: Meditations on Ruin and Redemption and two collections of poetry – Vellum and Rapture & the Big Bam.
Poetry Reading
Bullets into Bells
April 14, 7-9 p.m.
Stage at KDHX in Grand Center
In partnership with the Saint Louis Poetry Center, local poets and activists will read from the book Bullets into Bells Poets and Citizens Respond to Gun Violence on Saturday, April 14 at The Stage at KDHX in Grand Center. The anthology features poems on gun violence in America, with commentary from survivors, activists and writers. Poet Dana Levin, distinguished writer-in-residence at Maryville University, contributed to the collection and is a featured reader.
About the Partners
Boris Bally and I.M.A.G.I.N.E. Peace Now
A Swiss-trained, active studio metalsmith, Bally has shown work in numerous exhibitions and has been invited to serve as a juror for State Fellowship programs and national exhibitions over the past four decades. In 1996, he became affiliated with Pittsburgh's Antiviolence Coalition Gun Buy-Back Program and began dismantling their weapons for use in political art. His exhibition, Artists of a Different Caliber, opened a year later in the Hewlett Gallery at Carnegie Mellon University and toured nationally. The Smithsonian Institution purchased work from that exhibition for their permanent collection.
Maryville University
Founded in 1872, Maryville University is a comprehensive and nationally ranked private institution with an enrollment of more than 7,800 students. Maryville offers more than 90 degrees at the undergraduate, master's, and doctoral levels to students from 50 states and 60 countries. For more information, visit maryville.edu.
Craft Alliance Center of Art + Design
Craft Alliance Center of Art + Design is a non-profit art center dedicated to empowering and enriching communities through craft. Located in the Delmar Loop and the Grand Center districts of St. Louis, Missouri, Craft Alliance offers exhibitions, education classes for all skill levels, free community programs, artist residencies and a gallery shop. Craft Alliance Center of Art + Design is funded in part by the Arts and Education Council; the Regional Arts Commission; the Missouri Arts Council, a state agency; and the generous support of its members.
For more information, call 314.725.1177 or visit craftalliance.org.
Media Contacts
Stefanie Kirkland
Exhibitions Director
Craft Alliance Center of Art + Design
stefanie.kirkland@craftalliance.org
314.725.1177 x323
John Baltrushunas MFA
College of Arts and Sciences
Director of Studio Art Programs
Associate Professor
jbaltrushunas@maryville.edu
314.529.9679