Speech-Language Pathology – Program Features
---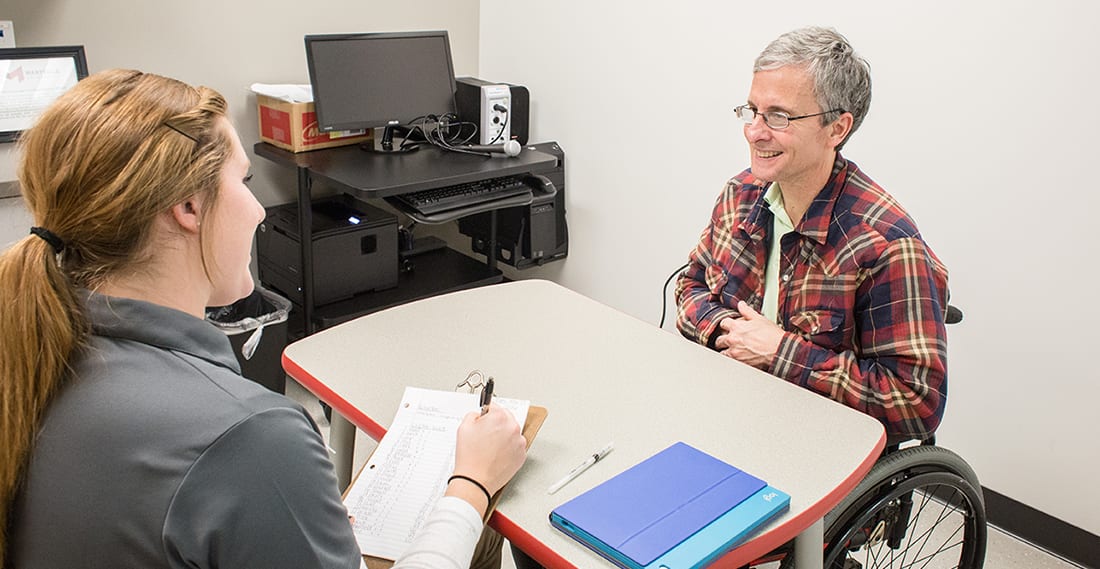 A master's degree is the minimum requirement for independent entry into the profession, regardless of practice setting. Those completing the Master of Science (MS) degree in Speech-Language Pathology at Maryville will be prepared for ASHA (American Speech Language-Hearing Association) certification and CCC-SLP status (certificate of clinical competence-speech-language pathology) and Missouri (or other) state licensure (both require completion of a Clinical Fellowship Year after the completion of the master's degree).
The undergraduate program in Communication Sciences and Disorders (CSD) began in Fall 2014. Students completing the undergraduate degree in CSD will be prepared to either apply for admission into a graduate school or to practice as a Speech-Language Pathology Assistant; working under the direct supervision of a fully licensed and certified Speech-Language Pathologist.
At Maryville University, we will prepare you to become a competent and reflective Speech-Language Pathologist through varied coursework, rich and diverse clinical experiences, and teaching and mentoring by expert instructors.
Flexibility
The program in Speech-Language Pathology at Maryville University will prepare you to work in a variety of workplace settings. Whether you want to work in healthcare settings (hospitals, clinics, rehabilitation, or home health), in public schools or in early intervention, Maryville's SLP curriculum will help you reach your goals. The program is carefully designed to fully prepare all graduate students for competent and confident placement in any SLP working environment.
Mission
The mission of the Maryville University Speech-Language Pathology Program is to prepare knowledgeable, competent, collaborative, and reflective Speech-Language Pathologists who exhibit academic and professional excellence, the desire to remain life-long learners and to educate the public about communication and swallowing disorders, and the commitment to serve all people with communication and swallowing disorders across the life span.
Bilingual SLP Experience
Maryville University offers the option of a bilingual (Spanish-English) practicum experience. Students who have been admitted into the graduate program and who have completed a minor in Spanish or otherwise met Spanish language proficiency requirements will be allowed to apply for this competitive graduate program opportunity.
Program Facilities
Maryville University recently opened Myrtle E. and Earl E. Walker Hall (Walker Hall). This state-of-the-art building is home to the undergraduate program in Communication Science and Disorders and will be the home of the graduate program in Speech-Language Pathology when it launches. The Walker Scottish Rite Clinic for Childhood Language Disorders is located in Walker Hall, and the Maryville Speech and Language Clinic for Children and Adults, slated to open in August 2016, will also be housed in the building. Facilities include technology-equipped classrooms, graduate student workspace, an audiology suite, shared research/lab spaces, access to computers and student lounge areas.
NSSLHA
Students will be encouraged to become involved with the National Student Speech Language and Hearing Association (NSSLHA) to learn more about the profession, socialize with peers, and lead and participate in service-based learning opportunities. This organization provides excellent leadership opportunities and will be mentored by a Speech-Language Pathology faculty member.
Helpful Links
National Student Speech Language Hearing Association (NSSLHA):  www.nsslha.org
American Speech-Language-Hearing Association (ASHA):  www.asha.org
Missouri Speech-Language-Hearing Association (MSHA): www.showmemsha.org
Council of Academic Programs in Communication Sciences and Disorders (CAPCSD): www.capcsd.org
ASHA Code of Ethics http://www.asha.org/policy/ET2010-00309/
Maryville University Non-Discrimination Policy
Read Maryville University's non-discrimination policy here.