Career Opportunities
---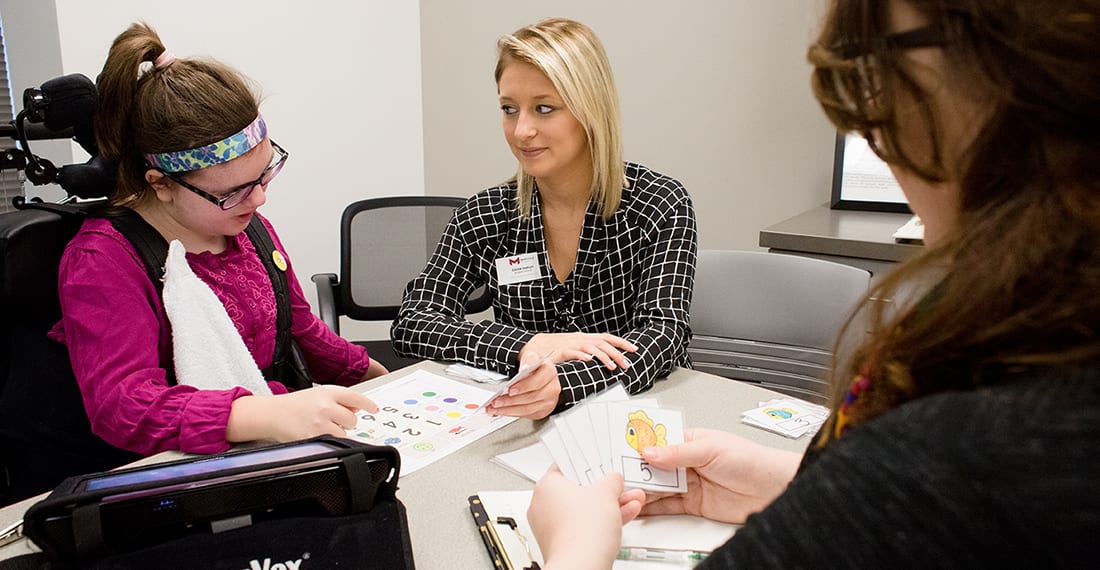 Students completing the M.S. in Speech-Language Pathology at Maryville University will be eligible for American Speech Language-Hearing Association (ASHA) certification (Certificate of Clinical Competence) and for Missouri state licensure (and other state licensures) from the Board of Healing Arts, following one year of full-time employment known as the clinical fellowship year (CFY).
Potential work settings include:
Early intervention
K-12 schools
Hospitals
Skilled nursing facilities
Rehabilitation Centers
Private practice
Colleges and universities
JOB OUTLOOK
Employment of speech-language pathologists is projected to grow 19 percent from 2012 to 2022, faster than the average for all occupations. Current salaries range from $44,940 to $111,000, with an average salary of $71,550.
As the large baby-boom population grows older, there will be more instances of health conditions that cause speech or language impairments, such as strokes and hearing loss. More speech-language pathologists will be needed to treat the increased number of speech and language disorders in the older population.
Increased awareness of speech and language disorders, such as stuttering, in younger children should also lead to a need for more speech-language pathologists who specialize in treating that age group.
In addition, medical advances are improving the survival rate of premature infants and victims of trauma and strokes, many of whom need help from speech-language pathologists.
WORK ENVIRONMENT
Nearly half of all speech-language pathologists work in schools. Most speech-language pathologists work in medical facilities, such as hospitals. Some work in patients' homes. Industries employing speech-language pathologists include schools, medical practices, hospitals and other nursing and residential care facilities.
Bureau of Labor Statistics, U.S. Department of Labor, Occupational Outlook Handbook, 2014-15 Edition, Speech-Language Pathologists, on the Internet at http://www.bls.gov/ooh/healthcare/speech-language-pathologists.htm (visited May 22, 2015).