Gocial Named Associate Vice President for Academic Affairs
---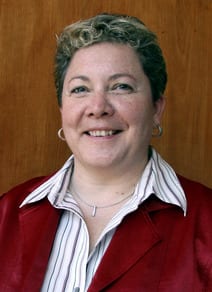 6/8/09
Maryville University has announced that Tammy Gocial, PhD, has been named associate vice president for academic affairs. Gocial, who began her duties July 1, is responsible for adjunct faculty programming, evaluation and budgeting, directing the Graduate Policies Council, accreditation compliance and serving as liaison to various committees. She will also teach psychology and freshman seminar courses.
Gocial specializes in the areas of diversity, human subjects, planning, academic standards, international program assessment and judicial affairs. Most recently, she served as dean of students at Kenyon College in Gambier, Ohio.
Returning to St. Louis where she previously resided and worked for 15 years, Gocial is also returning to the campus of Maryville University, where she directed a grant program in the early 1990s and taught women's studies courses.
"I have always appreciated the familial atmosphere of Maryville," Gocial said. "People care about each other and the work they're doing for students. I'm pleased to be back in the Maryville community."
Gocial also worked at Webster University as assistant to the vice president for student affairs and coordinator of adult and women's programs, as well as associate dean of students.  In addition, she served three years at the College of Santa Fe, in Santa Fe, New Mexico, as vice president and dean of student life.
"Over the course of my career, I think I've learned a lot about the higher education landscape from a fairly broad perspective," Gocial said. "I'm eager to utilize my knowledge and experience in my work with the faculty and the broader campus community as we facilitate student learning."
Gocial earned a doctoral degree in applied-experimental psychology with a developmental/social emphasis from Saint Louis University, a master's degree in college student personnel from Bowling Green State University in Bowling Green, Ohio, and an undergraduate degree in human development and social policy from Northwestern University in Evanston, Ill.
Maryville University, founded in 1872, is a four-year, private university located in west St. Louis County. Ranked by U.S. News & World Report as one of America's Best Colleges in the Masters-Midwest category, Maryville University students may choose from 50 academic programs, including degrees at the bachelor's, master's and doctoral levels. Among recent graduates, 94 percent are employed or attending graduate school. More than 15,000 Maryville alumni work and live in the St. Louis region.