Geriann Brandt
---
Digging for Clues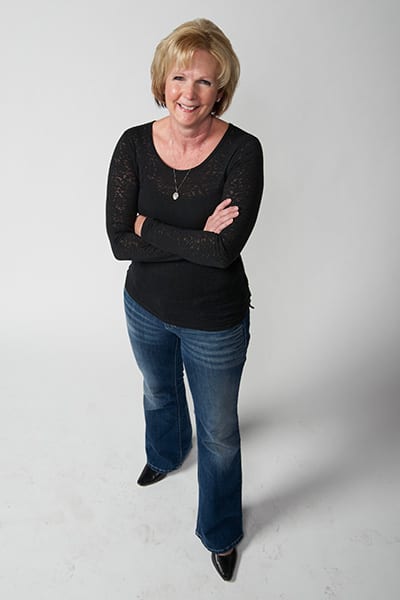 Digging in the dirt for bones. Examining a house for blood spatter. Taking bullets to a forensics lab for testing. It may sound like an episode of Law & Order, but it's actually all part of the Murder to Trial coursework offered every fall by Geriann Brandt, assistant professor of criminal justice/criminology.
Brandt begins preparing for the course during the summer, when she buries a pig carcass and other evidence at Maryville's 92-acre educational reserve in Augusta, Mo. When class begins in the fall, Brandt gives students a timeline of the crime and presents several witnesses (enthusiastically played by former students).
"Then we go in August and I just unleash them," Brandt says. "We spend a day or two unearthing the pig. I want them to see what this is like, because this particular body is trying to tell you a story if you are listening."
Students then examine the collected evidence in a lab before dividing into teams to craft the prosecution and defense for the fictional case. The last 15 weeks of the course are spent at the Town & Country City Hall, where a real judge hears the case.
"I think it would be easy to take the back seat in this class and just do a lecture, but I'm a very hands-on person," Brandt says.
Most students who take Murder to Trial are interested in careers in law enforcement. A former uniformed police officer herself, Brandt says the class prepares students for life beyond college by helping them understand the rule of law and by exposing them to moral issues faced by criminal justice professionals.
"I wouldn't be worth my salt if I didn't show them the good, the bad and the ugly in law enforcement," Brandt says. "It's make it or break it for them. Either they want to do it or maybe it's not for them. Sometimes for my students, this is their aha moment."
Student feedback for Murder to Trial has been so positive that Brandt hopes to soon add a second course, which would incorporate forensic psychology and cybercrimes.
"She is a wonderful professor who makes sure that all of her students are not only passing the classes, but are actually grasping the ideas she is teaching," says Diane Shead, a double major in criminal justice and psychology. Shead hopes to become a prison psychologist after graduation. "I feel that everything that I learned from Prof. Brandt I will use in the future, and she has taught nothing but vital information needed for the criminal justice field."
(First published in the Spring 2015 edition of Maryville Magazine.)