Gardner named to executive committee of the National Association for Campus Activities
---
5/21/12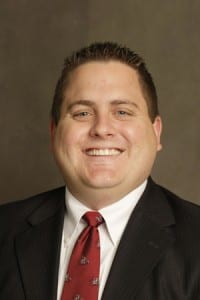 The National Association for Campus Activities recently announced Maryville's Assistant Director of Student Involvement Brian Gardner '03, '07 will serve as Vice Chair for Programs to its Board of Directors.
Gardner separately has been promoted at Maryville, and officially becomes the University's Director of Student Involvement June 1. Gardner's commitment to making Maryville a vibrant campus comes from his own time as a student here. "When I was a student, we had a campus life that wasn't as intentional and conducive to creating community as it is now."
Gardner says student involvement is about just that, encouraging students to decide what programs and events they want on campus, making sure they have the training to pull it off succesfully and providing guidance when it's needed. He said those involved in campus activities and events, regardless of their field of academic study, come away with experience in areas like contract negotiation and event planning.
"A big part of that evolution is our involvement with the National Association for Campus Acitivites," Gardner said. Gardner explained that the association links together education and entertainment and supports student engagement and student activities across the nation. In his leadership role on the Association's executive committee, he will be responsible for communicating and implementing Board policy and procedures as they apply to institutes, regional conferences and other educational programs.
His experience with NACA includes serving as Chair of the Mid America Regional Conference in 2010, Regional Block Booking Coordinator, Off Site Logistics Coordinator and more. He was also the recipient of the C. Shaw Smith New Professional Award and the Legacy Award. In addition, Gardner has written several published articles in Campus Activities Programming™. Gardner received a Bachelor of Science in Marketing and his Master of Business Administration degree from Maryville.
About the National Association for Campus Activities
Established in 1960, the National Association for Campus Activities is the recognized leader in higher education for providing members with innovative practices and access to programs that support campus engagement. The association offers a variety of events, educational institutes, publications and networking opportunities for colleges and universities across the country. It focuses on program planning, risk management, multicultural education, concert management, student and professional leadership development, student government and more.
About Maryville University
Maryville University, founded in 1872, moved to the national universities category of U.S. News & World Report this year. It is one of three institutions in the Greater St. Louis Area ranked in this division. Kiplinger's Personal Finance ranks Maryville in the Top 100 Private Universities in the U.S. for Best Value.