From the President: Embracing Differences — Facilitating Dialogue
---
11/4/14
To the Maryville Community,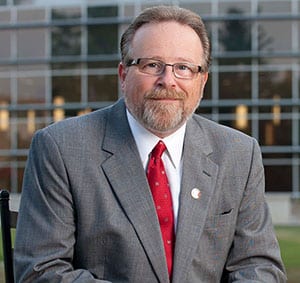 For some weeks now we have all watched as the events unfold in Ferguson and the surrounding communities. The tragedy of the shooting death of Michael Brown has brought forth a number of important issues regarding race relations, the role of law enforcement and the divisions that exist within American society. These issues are not new and they have been analyzed and debated in many communities across this country for decades. They require still further discussion, examination, reflection, and—where appropriate—action.
Many in our community have been directly impacted by these events because of our own connections to residents of Ferguson and to the strong views held by many as to what occurred that day, the investigative process, the role of public demonstrations, and what the actions should be of the legal system going forward.
As a proud and important national university in St. Louis, Maryville takes its role as an educational institution with great seriousness and care at such times. We are here to facilitate dialogue between competing viewpoints, to educate our students and the broader community on how such divides can be bridged, and to provide a safe and secure environment for civil discourse, mutual understanding and respectful dialogue. Through these difficult times, we will stay true to that mission and those goals. I expect everyone at Maryville—be they student, faculty or staff—to serve as beacons of thoughtful discourse, facilitators of dialogue, and patient role models of debate and, yes, disagreement.
We all have our own personal views on this situation and the broader issues of race in our society. Only if we educate ourselves, listen earnestly to the views of others, and reflect on opinions different than our own will we achieve true understanding, find solutions to problems, and ultimately begin the healing for which this situation calls.
I cannot underscore enough the importance for all of us to be educators and models for our students in these difficult times. Provide spaces and places where students can express themselves, help facilitate dialogue between differing opinions no matter how strong and passionate. And help shape the passions of our students into constructive methods of building a better, more just, and more understanding community and society.
One of my favorite quotes from Dr. Martin Luther King is:
"People often hate each other because they fear each other; they fear each other because they don't know each other; they don't know each other because they cannot communicate; they cannot communicate because they are separated."
Let us break down the walls of separation in ourselves, our minds, our families, our communities and our nation.
I encourage you to attend the Town Hall meetings and the Diversity Dialogues scheduled for this week and subsequent weeks.
Dr. Mark Lombardi, President