Fister Receives National Design Recognition
---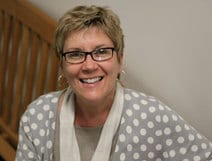 4/22/09
Cherie Fister, MFA, graphic and interactive design program director, has been honored with a Fellow Award by AIGA, the national association for professional designers. The Fellow award program recognizes designers who have made a significant contribution to the field and to their local or regional design community. In the 20-year history of the chapter, Fister is only the third designer in the St. Louis region to become an AIGA Fellow.
"With this award, the association acknowledges the impact that our graphic design program has had on the St. Louis design community. It's especially meaningful for me to receive this affirmation from colleagues with whom I work and who also work with our alums," Fister said.
"Cherie's work has touched and influenced hundreds of lives in the creative community in St. Louis, most significantly as a design educator since 1990, and in her role as primary architect and ongoing director of the Maryville University Graphic Design program," said Caren Wood, in her letter of nomination. Wood is a longtime colleague of Fister on the AIGA board of directors and more recently a Maryville adjunct faculty member.
In the past 10 years, Fister has held several positions on the AIGA board, including education director, vice president, president and chair of the student design conference. Under Fister's leadership, Maryville has hosted the student conference six times in the past 10 years.
"I'm always eager to bring designers to Maryville University," Fister said. "The conference has evolved a lot since we first hosted it in 1999 – it's really become a regional conference featuring national speakers who also lead breakout sessions. Local professionals have always participated in the conference portfolio reviews, but now there are Maryville graduates who have been practicing long enough to qualify for the job!"
As a benefit of her work with AIGA, many adjunct teachers in the design program have been recruited through those professional contacts, Fister said.
"My initial motivation to become more involved in leadership roles in AIGA was to see who in the professional design community had aspirations to teach," she said. About 80 students are enrolled in the design program, Fister said.
The Fellow Award allows Fister to have a personal web presence on the national AIGA website, including photos of her work. She is also invited to attend the Design Legends Gala in New York City in September.