Maryville Volunteers, Judges FIRST® LEGO® League; Co-Sponsors Scholarship Row at Championship
---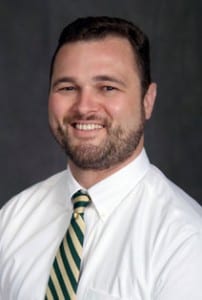 4/21/11
The FIRST® World Championship is coming to St. Louis from April 27-30, the first of three years that the competition will be held in the Edwards Jones Dome. Maryville University is a co-sponsor of Scholarship Row at the FIRST Championship and will be among other institutions onsite with a scholarship opportunity for FIRST participants.
FIRST stands for "For Inspiration and Recognition in Science and Technology." The nonprofit administers four robotic competitions involving research and robotics for children and adolescents beginning at age six and going through high school (K-12).
Steve Coxon, PhD, assistant professor of gifted education and literacy at Maryville, who also serves on the FIRST LEGO League planning committee for the St. Louis Region, will be a volunteer robot design judge during the World Championship this year.
"This is a wonderful opportunity for the University to engage with a community of very talented young people," said Coxon. "The creativity and problem solving involved in the FIRST competitions is likely to increase the future pool of talented scientists and engineers whose innovations improve quality of life globally."
In 2011, 250,000 young people are involved worldwide in FIRST. The Championship FIRST® LEGO® League program will draw top teams from around the globe with 29 countries  represented by 81 teams coming from abroad. Two competitions, Junior FIRST® LEGO® League ( JrFLL® for ages 6-9) and FIRST LEGO League (FLL) (for ages 9-14) use LEGO bricks and kits to design, engineer, and program autonomous robots.  Students in FLL program their robots to perform set tasks for points, such as having their robot deliver a LEGO cardiac patch to a heart.
The FIRST® Tech Challenge (FTC®) program for high school ages uses TETRIX and the LEGO NXT kit to create robots, while the FIRST Robotics Competition (FRC®), also for high school, involves large robots, up to 150 pounds, that compete in direct competition with other teams in head to head competition. The entire FIRST competition  is often referred to as  "Sports for the Mind.™"
Anyone interested in volunteering at any of the events, may contact Kathleen Kennedy.