Mya Vaughn
Assistant Professor of Rehabilitation Counseling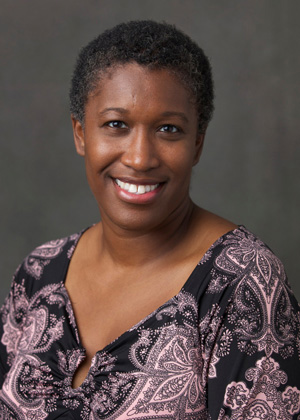 Phone:
Work
314.529.9463
Email:
svaughn@maryville.edu
Education
BS in Psychology, Southern Illinois University-Edwardsville
MS in Rehabilitation Counseling, Maryville University
Ph.D. in Rehabilitation Counselor Education, Michigan State University
Courses Taught
Foundations of Rehabilitation Counseling, Mental Health and Rehabilitation Service Systems, Rehabilitation System, Advanced Helping Skills/Practicum
Research Interests
Sexuality & Disability, Multicultural Counseling Issues
When I'm Not Teaching
I enjoy spending time with family and friends.
Selected Publications
Ancis, J.R., D'Andrea, M., Bryant, R., Hammond, C., Riser, S., & Vaughn, S. (2011). Counselors for Social Justice position statement on the development of the Diagnostic and Statistical Manual of Mental Disorders-5th ed. (DSM-5) and proposed draft revisions to DSM disorders and criteria.
Boston, Q., Vaughn, M., Robertson, S., Fuerth, K., & Baldwin, B. (2011). Multicultural counseling and cultural beliefs in rehabilitation counseling: Implications for practice and advocacy. Rehabilitation Counselors & Educators Journal, 4(2), 33-40.
Boston, Q., Vaughn, M., Pitt, J., Soldner, J.L., Turner-Whittaker, T., & Robertson, S. (2011). Promoting multicultural competencies in early career rehabilitation counsellor supervisors. Australian Journal of Rehabilitation Counseling, 17(1), 36-45.
Bynum, F., Boston, Q. Vaughn, S., Pitt, J., Smith-Augustine, S., & Waldrum, S.(2012). Chronic disability and women of color: Implications for rehabilitation professionals. Accepted for Publication: Rehabilitation Counselors and Educators Association Journal.
Toporek, R.L., & Vaughn, S.R. (2010). Social Justice in the training of professional psychologists: Moving forward. Training and Education in Professional Psychology, 4(3), 177-182.
Vaughn, M., & Boston, Q. (2010). Predicting employment outcomes among women of color with psychiatric disabilities. Journal of Vocational Rehabilitation, 33(1), 27-37.doi:10.3233/JVR-2010-0513