Cooperating Teachers/Supervisors
---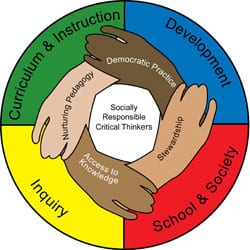 Thank you for working with our student teachers.  Your participation is vital to the success of our teacher education program and we truly appreciate and value this partnership!
This page is dedicated to you! Here you will find information and resources to assist you as you work with our candidates.  We are always interested in updating and adding to this information so if a question you have is not addressed here – please let us know by contacting our Coordinator of Clinical Experiences, Holly Stanwich, at hstanwich@maryville.edu.
Let's get started with an invitation!
Annual Fall Orientation:
Cooperating Teachers / Supervisors / Student Teachers
Date:  September 2, 2015
Time:  4:30 – 6:00 p.m.
Location:  Maryville Campus
President's Conference Center, Ground Floor, Gander Hall
email:  hstanwich@maryville.edu or call (314) 529-9542
Thank you in advance for joining us as we prepare for this year's student teaching experience. This meeting/workshop serves as a review and affirmation for some of you and an induction for others into the responsibility of being a cooperating teacher. We will provide an overview of our teacher education program, review the student teaching expectations and Pre-service Teacher Assessment, and set the stage for a successful experience. Your student teacher will also be in attendance so you may find it a nice time to say hello and visit a bit.
We'll be covering topics in our Student Teaching/Internship Handbook. We encourage you to print this and bring it with you to the meeting.
You will receive a letter in the mail with the agenda as we get closer to the meeting date.  Thanks in advance for saving this date for us – we're looking forward to seeing you here on campus!
Cooperating Teachers
University Supervisors