Director of Athletics Pens Story of Personal Triumph
---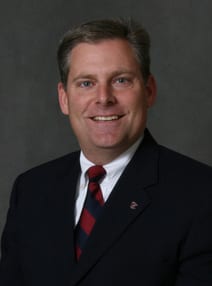 3/9/09
A childhood accident forced Tony Duckworth to revamp his basketball shot, rework his baseball swing, and develop a new golf grip. However, the toughest—and most rewarding—challenge of all has been maintaining a winning attitude.
Duckworth, director of athletics at Maryville University, reflects on the traumatic hand injury that changed his life in a chapter of the newly-released Chicken Soup for the Soul: Inside Basketball. His story is one of 101 chapters in the book, selected from over 15,000 submissions.
"I was twelve years old and had gone to my grandparents to go deer hunting on their property …" begins the essay, "Be a Victor, Not a Victim." In attempting to retrieve a shotgun that was sliding from his lap, Duckworth continued, he grabbed the barrel—just as the gun fired. His hand was severely burned and mutilated in the muzzle blast. Doctors saved only his thumb and pinky finger; painful rehabilitation and four subsequent surgeries followed.
As a seventh grader, he wore a bowling glove for a short time to hide the scarring. Eventually, he realized friends were unconcerned and quit wearing it. Just recently, in fact, a pal from the old days found Duckworth online and sent him a message: "I really admired you when you played high school sports."
Developing a Positive Attitude
"A lot of the characteristics I use in my professional career are a by-product of what I went through in regard to the accident," Duckworth said. "I had to learn to adapt to circumstances, develop thick skin—I heard my share of smear words during competition —and learn to persevere with my abilities and aspirations, as well as maintain a positive attitude."
Duckworth lived in a rural area near Macon, Ga., at the time of the accident. He received tremendous support and encouragement from family and friends, teachers and coaches. In particular, Duckworth's father influenced his recovery in a lasting way.
"When I was still in the hospital after the accident, my dad and I were having a conversation," Duckworth recalled. "He alluded to the 'pity party' I had the day before with my mom—as kids will do—and my dad was clear in his message. He said: 'You don't need to have that conversation any more. You're going to get through this and make the best of it.'"
Growing up as an avid competitor, both before and after the accident, Duckworth had sports heroes, but none that overcame physical impairments in the same way he was planning to succeed.
"Now, when I hear about such an athlete, obviously it causes me to reflect. I want to know the challenge they're overcoming, what their approach is and how it impacts their world view, because my accident certainly impacted mine," Duckworth said.
What it did, Duckworth said, is toughen him up and make him strive even harder to reach his personal best. Perhaps his long record of success indicates that goal was somehow imparted to the many players Duckworth has mentored and coached over the years.
Perseverance Leads to Success
Prior to Maryville University, Duckworth spent 15 years as a collegiate men's basketball coach. From 2001 – 2007, he coached at Huntingdon College in Ala.; he was also associate athletics director during the last three years of his tenure. Duckworth posted the second most wins in the college's history. He was named 2006 Great South Athletic Conference Coach of the Year, and his 2005-2006 team won the GSAC regular season and tournament championships while setting the all-time NCAA Division III field goal percentage defense record (35.4%).
Prior to Huntingdon, Duckworth revitalized the Belhaven College, Miss., program. At 28, he was one of the youngest four-year college head coaches in the nation. His Belhaven squad made the 2001 NAIA Division II National Tournament while leading the nation in team rebounding margin (+10.6 per game), only the second national tournament appearance for the Blazers in their history. During his last two seasons, Duckworth led the program to 25 consecutive weeks of being nationally ranked.
Duckworth was also the assistant men's basketball coach and recruiting coordinator from 1992-96 at Covenant College in Georgia. During the three seasons Duckworth served as recruiting coordinator, Covenant compiled 35 conference wins while signing four conference all-freshman and one NAIA All-American.
"Any time an individual goes through hardship or difficult times, they process it somehow," Duckworth said. "I took my assurances through my faith and family. There are a number of Biblical references to the idea that all things work for good. Without question, there has been a lot of good to come out of this."
Duckworth continues to share his winning attitude with Maryville University, moving athletics forward as the program prepares to wrap up its first year of a three-year process to reclassify to NCAA Division II play.
"We'll find out in July if we advance to Year Two," Duckworth said. "We first demonstrated that we had the makeup to compete in Division II, now we have to show that we're beginning to set compliance systems in place and that we're meeting NCAA Division II expectations."
Maryville Saints athletics teams will begin D-II competition in fall 2009 as part of the Great Lakes Valley Conference, the premier D-II conference in the country. Maryville University will be one of five Missouri teams.
Booksigning Event – March 24
A book-signing program will be held from 4-6 p.m. on Tuesday, March 24 in the Auditorium. The event includes the showing of the movie, Music Within, the true story of how one man learns to cope with his disability and help others to do the same. Following the film, Duckworth will talk about his personal experience and sign books; books will be available for purchase in the lobby. This will be the first activity held in celebration of the 10th anniversary of the Rehabilitation Counseling Program, which is co-sponsoring the event with University Library.
Maryville University, founded in 1872, is a four-year, private university located in west St. Louis County. Ranked by U.S. News & World Report as one of America's Best Colleges in the Masters-Midwest category, Maryville University students may choose from 50 academic programs, including degrees at the bachelor's, master's and doctoral levels. Among recent graduates, 94 percent are employed or attending graduate school. More than 15,000 Maryville alumni work and live in the St. Louis region.