Dining Facility, Gander Hall Expansion Planned
---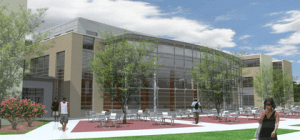 4/26/10
Maryville University plans to expand its dining facilities in order to enhance services for students, as well as to provide a more central gathering place for the campus community. Construction of the new dining facility will take place in conjunction with the renovation of Gander Hall, which houses administrative offices, the student service center and the University's main cafeteria facility.
In doubling the size of the Gander Hall, from 8,600 square feet to approximately 19,000 square feet, the project will allow for a 500-person dining area, twice the current capacity. Existing kitchen, serving and dining facilities will be completely renovated. Planned service enhancements include a food court with individual serving stations, expanded menu selections and extended hours.
"By providing a more comprehensive dining program, one available for longer hours and offering greater variety, we believe we'll foster a stronger campus experience for both residential and commuter students," says Nina Caldwell, PhD, vice president for student life and dean of students.
The three-story addition to Gander Hall will feature a two-story atrium that encloses what is now an outdoor courtyard. That space will be dedicated to the dining area. The top floor will feature additional office space, a conference room, and a roof-top terrace for outdoor receptions.
A Heritage Room, celebrating the history and traditions of the University, will also be constructed in Gander Hall. Artifacts, including furnishings from Maryville's original campus in south St. Louis, will be featured, along with video remembrances by alumni. Exhibits and commemorative programs are planned.
The St. Louis-based architectural firm, Hastings & Chivetta Architects, Inc., has been retained to design the expansion project.
About Maryville University
Founded in 1872, Maryville University is a four-year, private university located in west St. Louis County. Ranked by U.S. News & World Report as one of America's Best Colleges in the Masters-Midwest category, Maryville University students may choose from 50 academic programs, including degrees at the bachelor's, master's and doctoral levels. Among recent graduates, 82 percent are employed or attending graduate school. More than 16,000 Maryville alumni work and live in the St. Louis region.