Cokie Roberts to Deliver 2011 Commencement Address
---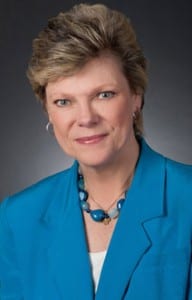 3/18/11
Maryville University has announced that Cokie Roberts, respected journalist, author and ABC News political commentator, will deliver the 2011 commencement address on Saturday, May 7. The University will present Roberts with an Honorary Doctor of Humane Letters degree during the ceremony.
Roberts, who is also a senior news analyst for National Public Radio, was named a "Living Legend" in 2008 by the Library of Congress; she is one of few Americans to attain such honor.
For six years, from 1996-2002, Roberts co-anchored ABC's weekly interview program, This Week, with Sam Donaldson. In more than 40 years of broadcasting experience, Roberts has won countless awards, including three Emmys.  She has been inducted into the Broadcasting and Cable Hall of Fame and was cited by American Women in Radio and Television as one of the 50 greatest women in the history of broadcasting.
Roberts and her husband, Steven V. Roberts, write a weekly column syndicated in newspapers nationally by United Media.  The Roberts are also contributing editors to USA Weekend Magazine. Together, they recently authored, Our Haggadah: Uniting Traditions for Interfaith Families.  As an interfaith couple, the Roberts family has adapted and expanded their traditions for each Seder to welcome all who wish to take part in the celebration. Our Haggadah is their personal handbook of the Passover meal, originally composed on a typewriter and stapled together.
The couple has also written From this Day Forward, an account of their marriage and other marriages in American history.  The book became an immediate New York Times best-seller, following Roberts's number one best-seller, We Are Our Mothers' Daughters, an exploration of women's roles and relationships throughout American history. Her histories of early American women, Founding Mothers and Ladies of Liberty, are also best-sellers.
Along with serving on the President's Commission on Service and Civic Participation, Roberts is on the boards of several non-profit institutions. She is the mother of two children and grandmother of six.
About Maryville University
Founded in 1872, Maryville University is a four-year, private university located in St. Louis, Missouri, and ranked by US News & World Report as one of America's Best Colleges in the Regional Universities – Midwest category. Maryville University students may choose from 50 academic programs, including degrees at the bachelor's, master's and doctoral levels. Approximately 3,700 students are enrolled through the College of Arts and Sciences, the John E. Simon School of Business, the School of Health Professions and the School of Education.