Class of 2014 Expected to Set Enrollment Record
---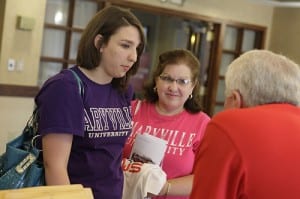 8/19/10
Maryville University anticipates that the Class of 2014 will represent the largest freshman class in the University's history. Currently projected at 360 students, the number of first-year students represents a 22 percent increase over the past three years. Graduate student enrollment is on track to increase by 6 percent over 2009. Total student enrollment – including undergraduate, Weekend & Evening College and graduate students – is expected to reach more than 3,700 students, a 2.7 percent rise compared to last year.
"Our projections indicate that Maryville continues to build on our strong reputation as one of the finest Midwest universities," said Mark Lombardi, PhD, president of Maryville University.  "The long-range strategic plan sets a goal for total enrollment of 5,000 students by 2014. We have continued to strive toward that benchmark by making many strong strategic moves, such as expanding our academic programs, completion of a new dining hall in 2011 and entering our final provisional year of NCAA DII athletics competition."
With the increase in first-year students, Maryville's residence halls are at full capacity with approximately 630 students. The University recently purchased a former Marriott hotel, located adjacent to campus in Maryville Centre, and renovated it as a residential hall to accommodate the record number of students. Known as Maryville Hall, the facility houses 250 students and provides amenities such as free laundry, private bathrooms and a state-of-the-art workout facility.
About Maryville University
Founded in 1872, Maryville University is a four-year, private university located in west St. Louis County. Ranked by U.S. News & World Report as one of America's Best Colleges in the Regional Universities-Midwest category, Maryville University students may choose from 50 academic programs, including degrees at the bachelor's, master's and doctoral levels. Among recent graduates, 82 percent are employed or attending graduate school. More than 16,000 Maryville alumni work and live in the St. Louis region.