Civic Education Partnership is Model of Success
---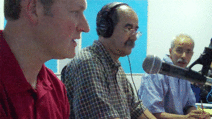 6/17/10
Alden Craddock, PhD, recently traveled to Morocco to complete a three-year, Civic Education Partnership Initiative (CEPI) project between Maryville University and the Moroccan Center for Civic Education. During the project, teachers developed lesson plans focused on principles of democracy.
During his visit, Craddock, associate vice president and director of Maryville's Center for Civic Engagement and Democracy, spoke about his work on a Radio Tanger educational talk show.
In collaboration with Elarbi Imad, president of the Moroccan Center for Civic Education for three years, Craddock helped to develop a new Moroccan curriculum for ninth grade civics education, teacher education lessons and university courses. Introduced during the 2009-2010 school year, the CEPI project materials are already utilized in 125 schools by some 200 teachers and 8,000 students.
Craddock was accompanied on his trip to Morocco by Natalie Bolton, PhD, director of the Office of Civic Education and Engagement at the University of Louisville. Bolton is assisting in the assessment of student learning in the new curriculum for future editions.
The CEPI has been a great success largely because it is based on principles of mutual trust, cooperation and practicality, Craddock said.
"The program is founded on the idea that we meet local areas of need as identified by our partners and work in partnership to develop academic solutions," Craddock said. "We don't believe in a 'consultants in – consultants out approach,' but in building long-term relationships premised on human relations."
He shared this approach and its success with the national audience on Radio Tanger leading the host, Abdelletif Benyahya, to declare in friendship, "I have been sitting next to you and feel like I have known you for a long time now." The CEPI workshop in Tangier was covered by other local and national media, as well.
The success of the CEPI program was also well-received during a presentation at the U.S. Agency International Development (USAID) mission in Rabat, Morocco. Craddock and colleagues presented the results of the CEPI project—and other civic education programs of the Moroccan Center for Civic Education—to 15 officials from U.S. State Department, including Samuel L. Kaplan, recently appointed as U.S. Ambassador to Morocco.
With the CEPI project funding coming to an end, Craddock hopes that the project's success will lead to additional support for more partnership activities.  In the meantime, the collaborators are already laying the groundwork for future projects.
"There is so much that we can learn from each other that we are determined to keep our partnership working," Craddock said.
At a time when the United States seeks better and closer relationships with the Arab world, Maryville's partnership with the Moroccan Center for Civic Education serves as model of success, Craddock said.
For more information, visit the Center for Civic Engagement and Democracy's Web site; or call the Center at 314.529.6687.