Cibulka Honored with National APTA Fellowship
---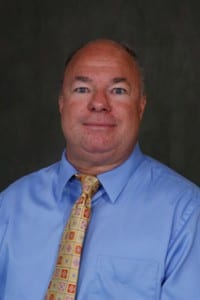 6/30/11
Michael T. Cibulka, PT, DPT, MHS, OCS, associate professor of physical therapy at Maryville University, has been elected a Catherine Worthingham Fellow of the American Physical Therapy Association (APTA). The designation, the highest honor awarded by APTA, recognizes practitioners who attain exceptional professional excellence and who positively impact the profession.
"This fellowship is a great honor for Mike and recognizes his outstanding contributions to Physical Therapy practice and research. We are delighted to have him on our faculty as a colleague," said Charles J. Gulas, PhD, dean of the School of Health Professions. "Mike is known across the country for his passion for physical therapy."
Cibulka has consistently served as a role model for Maryville students, said Michelle Unterberg, PT, DHS, director of Maryville's physical therapy program.
"Mike has made significant contributions to the profession," Unterberg said. "The physical therapy students and faculty at Maryville have benefited greatly from his clinical and research expertise."
A specialist in musculoskeletal disorders and conditions, Cibulka is considered a leader in the areas of hip and sacroiliac joint research. He is known as a strong advocate for the physical therapy profession. He has published extensively in a variety of publications, including the Journal of Orthopedics and Sports Physical Therapy, Manual Therapy and Physical Therapy.
Cibulka is a past president of the APTA Orthopaedic Section and past president of the Journal of Orthopaedic & Sports Physical Therapy for APTA. He is also a former chair of the Orthopaedic Specialty Council, as well as past president and delegate of the Missouri Chapter. He has served on numerous national and statewide APTA committees.
In 2008, Cibulka received the Richard W. Bowling-Richard E. Erhard Award for Outstanding Clinical Practice from APTA's Orthopaedic Section. He is a two-time recipient of the APTA Jack Walker Award for the best published clinical article, and has been honored with the Missouri Outstanding Service Award for Service to the Profession by the Missouri Chapter.
Cibulka is also president and owner of Jefferson County Rehabilitation & Sports Clinic in Festus, Mo.
The APTA fellowship honors Catherine Worthingham, PT, PhD, FAPTA, who demonstrated leadership across the domains of advocacy, education, practice, and research in the field.