Cherie Fister, MFA
---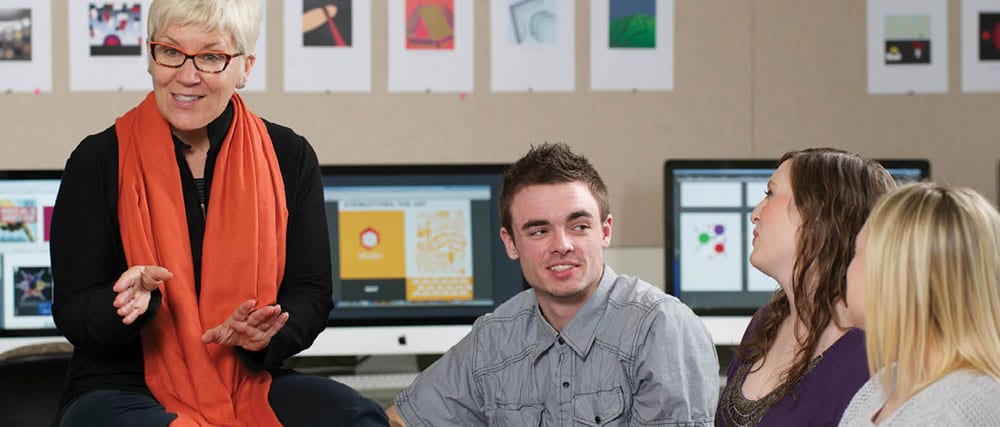 Teaching the Language of Design
Graphic designers are visual storytellers, says  Cherie Fister, MFA, Vice President of Academic Affairs and former director of the Graphic and Interactive Design program. She teaches students how to convey meaning using the artistic language of imagery, line, shape, typography, motion, symmetry, texture, color.
"We're interpreters," Fister said. "Learning to do it well means becoming keen observers, empathic listeners and resourceful problem solvers. I try to teach students how to choreograph visual information, written information and people's expectations—all are part of the design problem—and ultimately create a memorable concept and a really clean, clear message. And I love it," she said.
Fister came to Maryville in 1995, charged with developing a new graphic design program. Although the University had well-established studio art and interior design programs, the graphic design major was meant to satisfy students of a different temperament and focus, she said.
For artists, Fister explained, the making of art is an act of self-expression—a visual representation of what they're feeling and thinking. "Artists may or may not care if the viewer explicitly understands their work. They offer an independent, individual voice, a voice that usually expects freedom, not parameters during the process,'" she said.
Designers, on the other hand, need to be collaborators from the outset, working to clearly and persuasively visualize someone else's story. "Have you heard of the creativity of constraint? Designers generally love detail and thrive within a framework. We may want to change the world, but we'll do it within a visual system," she said.
Although her MFA work at Southern Illinois University-Edwardsville involved ceramics and museum studies, Fister has always been drawn to design. While in school, she supported herself working as a production artist. "I loved being in the studio and even when a task was just a task I thought it was so great that I could support myself as part of a design team," she said. After completing her degree, Fister entered the event and exhibit design world as assistant director for the First Street Forum gallery and museum (now called The Forum) for two years.
With just three staff members at the gallery, Fister gained a wide range of experience. She curated shows, designed exhibits and worked with nationally known artists like Phillip Glass and exceptional local artists such as Mary Sprague. She also directed educational programming that accompanied each exhibit.
When she left the position, Fister and her husband, artist and former community college instructor René David Michel-Trapaga, established a design firm and worked in illustration, corporate projects, arts grant reviews and exhibit design. Fister also was part of the Hellmuth, Obata and Kassabaum team that designed the Living World exhibit at the Saint Louis Zoo.
She began teaching design in 1990 as an adjunct at St. Louis Community College-Meramec and continues to embrace the role. Fister constantly reflects on, and responds to, the student learning process. As an early participant in a program focused on the study of one's own teaching through Maryville's Dr. Mary Ellen Finch Center for Teaching and Learning, she explored more deeply the process of learning.
"The timing of my participation in this two-year seminar was perfect. I was ready for something new and big, and this study of the literature and the teaching and learning process in my own classroom was a breakthrough."
Fister's research convinced her that she might be able to reach a wider range of students if she began to teach design theory in a way that made its practicality clear and applicable. "I saw students struggling when that pool of native talent that brought them to design was tapped out," she said. "Their visual sensibility could only take them so far and I wanted to be able to share a framework that would help them make—and be able to talk about—good design decisions."
Working with beginning students, Fister realized a shared vocabulary would help them understand intellectually what they don't get intuitively. In developing this language, she breaks basic elements and complex principles down into specifics. For example, students may be tasked to find examples of color used in six very different ways, then be asked to explain what meaning a particular color offered to the graphic.
"There is color that aids understanding (as used on maps to delineate borders) and colors that are associative (what communicates energy or stability or restfulness) as compared to color that is symbolic—hues that are claimed by seasons or corporations," Fister said. "They have to understand visual elements and principles, so they can use them to shape understanding."
On occasion, she customizes assignments and lessons to meet particular student needs or build individual strengths. In one exercise, a student showed a penchant for bright colors, so Fister instructed her to work from the muted color palette of vintage baseball cards; another student, drawn to soft colors, worked with the primary colors of Legos; a third student, who favored red and black, was assigned the vibrant colors of tropical fish.
As they create, students in Fister's classes frequently move, discuss, critique. "They're learning methods of brainstorming and collaboration that will directly influence their professional lives," she said. "They're learning to work together, to step in and step back, take leadership, be a worker bee if that's what's needed."
Fister was given a Fellow Award by AIGA, the national association for professional designers, in 2009. The award recognizes professionals who have made a significant contribution to the field and to their local or regional design community. The honor is a testament to the enduring strength of Maryville's design programs, Fister said: "I am an AIGA Fellow entirely because of the success of the Maryville program and its deep influence in the St. Louis region."