Build-A-Bear Workshop Foundation Grant Supports Kids Rock Cancer
---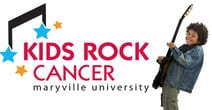 2/8/11
Maryville University has received a $3,000 grant from the Build-A-Bear Workshop Foundation to support the growth of Kids Rock Cancer at St. Louis area cancer centers.
Kids Rock Cancer, created through the School of Health Professions' music therapy program, provides a certified music therapist who works with children battling cancer and other blood disorders to write and record their own songs on a keepsake CD.
"We are committed to making a difference in the lives of children and proud to partner with Maryville University to support a program that is both creative and therapeutic," said Tina Klocke, president of Build-A-Bear Workshop Foundation.
Since its powerful introduction at SSM Cardinal Glennon Children's Medical Center in November 2009, Kids Rock Cancer has inspired and lifted the spirits of children, their families and hospital caregivers throughout the metropolitan area. It helps children open up about their diagnoses, provides a priceless keepsake to families and serves as an emotional outlet for many other children and parents. The program has now expanded to St. Louis Children's Hospital, the Cardinals Kids Cancer Center at St. John's Mercy Children's Hospital and the Cancer Support Community of Greater St. Louis (formerly The Wellness Community).
Music therapy is an established healthcare field that uses music to promote physical and emotional healing. When used as a complementary therapy along with conventional treatments, music therapy has been shown to significantly reduce anxiety, pain and nausea in cancer patients, and improve quality of life.
"Kids Rock Cancer provides an opportunity for children to experience a music therapy session with a certified music therapist," said Charles Gulas, PhD, dean of the School of Health Professions. "This allows them to express themselves in a safe environment, using music as a way to give voice to their emotions."
Audio tracks of some of the young musicians may be heard at maryville.edu/kidsrockcancer.
About Maryville University
Founded in 1872, Maryville University is a four-year, private university located in west St. Louis County. Ranked by US News & World Report as one of America's Best Colleges in the Regional Universities – Midwest category, Maryville University students may choose from 50 academic programs, including degrees at the bachelor's, master's and doctoral levels. Among recent graduates, 82 percent are employed or attending graduate school. More than 16,000 Maryville alumni work and live in the St. Louis region.