Maryville Talks Books to host former Presidential candidate Bradley, entertainer Vanessa Williams
---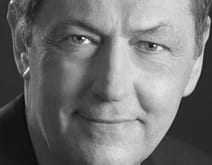 4/25/12
Maryville Talks Books, a signature author series from Maryville University, has a strong lineup featuring five books and their authors in May and June.
Upcoming author events include actress and singer Vanessa Williams and her mother, Helen Williams, on Thursday, May 10, at Christ Church Cathedral. They will talk about their mother-daughter bond and how Vanessa Williams overcame setbacks. This is a ticketed event.
The rest of the authors will speak on the Maryville University campus and include formerDemocratic Presidential candidate Sen. Bill Bradley, renowned sportswriter Frank Deford,historian Douglas Brinkley talking about Missouri native Walter Cronkite and author Buzz Bissinger, known for his sports books but writing more recently about his two sons. Admission to these on-campus events is free and open to the public, with seating on a first come, first served basis. The authors speak, engage in a question-and-answer session and sign books, available for purchase at the events.
Here is the detailed schedule:
An Evening with Vanessa Williams and Helen Williams
Thursday, May 10, at 7 p.m.
Christ Church Cathedral, 1210 Locust St. in St. Louis
A discussion and book signing with entertainer Vanessa Williams and her mother, Helen Williams.
When Vanessa Williams was growing up, she had a plan to become a Broadway star, and her mother was determined to help her achieve her goal. When Vanessa became the first African-American woman to win the title of Miss America but had to resign ten months later due to a nude photo scandal, their lives took some unexpected turns. Vanessa survived this setback, and many others to come, to enjoy a thirty-plus-year career as an award-winning singer and actress. You Have No Idea is an empowering celebration of the love between a mother and daughter and the life of a woman who beat the odds to achieve her destiny.
Ticket packages are $30 and include seating for two at the talk and book signing, as well as a copy of their book, You Have No Idea.  For the Williams event, tickets are available at:https://www.brownpapertickets.com/event/241196
Senator Bill Bradley – We Can All Do Better
Friday, May 11, at 7 p.m.
Maryville University Auditorium, 650 Maryville University Drive
Former Democratic Presidential candidate Bill Bradley, who represented New Jersey in the U.S. Senate from 1979 to 1997, has said he was largely inspired to write We Can All Do Better by President Abraham Lincoln's quote, "It is not 'Can any of us imagine better?' but 'Can we all do better?.'"
In We Can All Do Better, Bradley argues that in this time of political gridlock, government itself is not the problem. However, he criticizes the role of money in politics and explains improvements he believes are necessary to improve the nation's economy and foreign policy.
He calls on citizens to have confidence that the nation's democracy provides the tools needed to improve circumstances. He also draws from Lincoln to point out people are capable of great things when they cooperate with each other. Bradley was a Rhodes Scholar at Oxford University, won an Olympic gold medal in 1964, and played with the New York Knicks from 1967 to 1977, a time when the team won two NBA championships. He was elected to the Basketball Hall of Fame in 1982.
Frank Deford – Over Time
Wednesday, May 30, at 7 p.m.
Maryville University Auditorium
Acclaimed sportswriter Frank Deford has written and reported for Sports Illustrated since 1962 and is well known for his commentary on NPR's Morning Edition and his work on Real Sports with Bryant Gumbel. He is also known for his work to combat cystic fibrosis, after his daughter, Alexandra, died from the disease in 1980. His book, Over Time: My Life as a Sportswriter is as wide-ranging as Frank Deford's remarkable career, in which he has chronicled figures from just about every sport in nearly every medium. From the Mad Men-like days of Sports Illustrated in the 1960s to Deford's visit to apartheid South Africa with tennis great Arthur Ashe, Over Time is packed with intriguing people and stories.
Douglas Brinkley – Cronkite
Monday, June 4, at 7 p.m.
Maryville University Auditorium
Douglas Brinkley presents the definitive, revealing biography of an American legend: renowned news anchor Walter Cronkite, a Missouri native from St. Joseph, Mo.
An acclaimed author and historian, Brinkley has drawn upon recently disclosed letters, diaries and other artifacts to bring detail and depth to this deeply personal portrait. He has also interviewed nearly 200 of Cronkite's closest friends and colleagues, including Barbara Walters, Dan Rather, Katie Couric, Bob Schieffer and Jimmy Buffett.
Buzz Bissinger – Father's Day
Monday, June 11, at 7 p.m.
Maryville University Auditorium

Buzz Bissinger, the best-selling author of Friday Night Lights and Three Nights in August, about the St. Louis Cardinals and  their legendary manager Tony La Russa, has written his new memoir, Father's Day. His two sons were born more than three months premature in 1983. The eldest by a few minutes goes on to become a graduate student at Penn; the younger twin, Zach, has intellectual deficiencies. On a road trip with his son, Zach, Bissinger comes to appreciate his savant son's excellent memory and reflexive honesty.