Author Ken Robinson to Speak at Maryville
---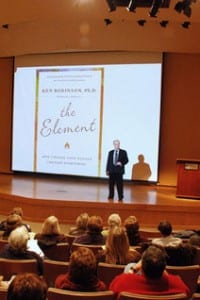 12/5/08
Ken Robinson, internationally-acclaimed author and inspirational lecturer on the creative challenges facing leaders in business and education, will discuss and sign his latest book, The Element: How Finding Your Passion Changes Everything, at Maryville University, beginning at 7 p.m. on Jan. 15. Robinson's visit is co-sponsored by Maryville University Library and Left Bank Books.
A question-and-answer period will follow Robinson's talk. Afterwards, the author will sign books, which will be available for purchase at the event.
Robinson has worked with U.S. and international government agencies, Fortune 500 companies and world cultural organizations to strategize innovative and creative solutions in meeting 21st Century challenges facing global economies, educational systems and communities.
In his new book, Robinson insists that society must rethink old ideas about human resources and imagination. By pursuing work which complements and enhances their personal talents and passions, he argues, individuals will experience greater well-being and success.
As a speaker widely-known for conveying serious messages with humor, passion and wit, Robinson has chaired and given keynote presentations to conferences around the world. In 2001, he was voted the Speakers for Business Speaker of the Year by over 200 companies worldwide. In 2005 he was named as one of Time/Fortune/CNN's 'Principal Voices.' He was knighted by Queen Elizabeth II for his contributions to the arts.
Robinson will speak in the Maryville University Auditorium. Light refreshments will follow the event. For more information, call Left Bank Books, 314.367.6731.
Maryville University, founded in 1872, is a four-year, private university located in west St. Louis County. Ranked by US News & World Report as one of America's Best Colleges in the Midwest, Maryville University students may choose from 50 academic programs, including degrees at the bachelor's, master's and doctoral levels. Among recent graduates, 94 percent are employed or attending graduate school. More than 15,000 Maryville alumni work and live in the St. Louis region.
Contact: Danielle Borsch, Left Bank Books: danielle@left-bank.com, 314.367.6731