Athletics Moves Forward in NCAA Div II Process
---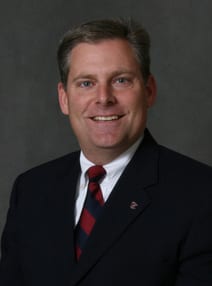 7/20/09
Maryville University has been granted permission by the NCAA to advance to Candidacy Year Two in the reclassification process for its 13 Saints intercollegiate teams moving from Division III to Division II. Maryville will compete in the premier Great Lakes Valley Conference beginning this fall.
"I am extremely proud of the progress the athletics department made during the past year," said Tony Duckworth, director of athletics. "Advancing to Candidacy Year II demonstrates that Maryville is laying the foundation for a quality Division II athletics program."
Throughout Candidacy Year One, the University successfully met NCAA Division II requirements, including attendance at assessment meetings, development of an athletics strategic plan, completion of an institutional self-study and submission of a Candidacy Year One annual report.
Moving to Division II is an important step in Maryville's strategic plan, Tradition and Transformation: Maryville's Strategic Plan for 2014. To enhance the vibrancy and diversity of campus life, the plan calls for expanded student recruitment throughout the Midwest, while also raising the university's profile. Maryville's athletic programs will play a big part in those efforts.
Reclassification to NCAA Division II is a three-year process. After successful completion of Candidacy Year Two, Maryville must be invited to enter the final provisional year; in the meantime, the University's readiness to become an active member will continue to be evaluated. At the conclusion of the three-year process, Maryville must be invited to active Division II membership.
Maryville has been a member of NCAA Division III since 1978; 2008-2009 was the final year of affiliation with the St. Louis Intercollegiate Athletic Conference. Over its 30-year history, the Saints have made 15 appearances in NCAA post-season tournaments. Most recently, the women's basketball 2008-09 team set the NCAA Division III record for most consecutive conference wins with 92; the streak ended with a win.
For more information, visit https://www.maryville.edu/athletics-d2.htm.
Maryville University, founded in 1872, is a four-year, private university located in west St. Louis County. Ranked by U.S. News & World Report as one of America's Best Colleges in the Masters-Midwest category, Maryville University students may choose from 50 academic programs, including degrees at the bachelor's, master's and doctoral levels. Among recent graduates, 94 percent are employed or attending graduate school. More than 15,000 Maryville alumni work and live in the St. Louis region.
Contact: Katie Jo Kuhens, Sports Information Director, 314.529.9312; kkuhens@maryville.edu