MA Organizational Leadership and Development Degree Offerings and Requirements
---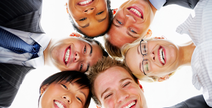 Course Sequence for Core Courses (24 credit hours)
(Sequence may vary slightly based on cohort year)
Semester 1 (Fall 1)
ORGL 530, Change Leadership (3)
ORGL 520, Research in Organizations (3)
Semester 2 (Spring 1)
ORGL 500, Organizational Leadership
ORGL 540, Human Behavior in Organizations (3)
Semester 3 (Fall 2)
ORGL 560, Decision Making Tools (3)
ORGL 580, Conflict and Negotiation (3)
Semester 4 (Spring 2)
ORGL 570, Group Dynamics and Development (3)
ORGL 615, Organization Development (3)
Electives Courses (minimum of 12 credit hours)
Choose from the following areas of focus or any four graduate-level courses that best support your career interests in consultation with your adviser:
General Management and Leadership
Choose any 4 approved graduate courses in Organizational Leadership and Development, Strategic Communication and Leadership, and MBA in consultation with your adviser.
Human Resources/Organization Development (HROD)
ORGL 575, Talent Management
ORGL 550, Organization Assessment
ORGL 615, Organization Development
ORGL 590, Organization Consulting
Concentrations in MBA Program
 Choose from concentrations in the MBA program offered in accelerated and online formats.
TOTAL Credit Hours (minimum of 36 credit hours)
*Please note.  New courses reflect a change to the course catalog. Revisions are effective January 1, 2015 for the Fall semester 2015 cohort.