American Physical Therapy Association honors Dean Gulas
---
6/20/12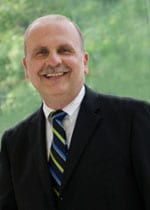 ST. LOUIS – The American Physical Therapy Association has honored the Dean of Maryville University's School of Health Professions Chuck Gulas with a national award recognizing his exceptional contributions to the association.
Chuck Gulas, PhD, PT, received the Lucy Blair Service Award for 2012. His commitment to the physical therapy profession includes international work in Haiti, support of the American Physical Therapy Association at the national, state and local levels, and in his role serving as a knowledgeable resource for fellow physical therapists, students and patients. He received the award earlier this month at the APTA Annual Conference in Tampa, Fla.  
Gulas, who was in Haiti when a devastating earthquake hit in 2010, has helped develop a program for Haitians to become rehabilitation technicians at the Hospital Albert Schweitzer, where they provide rehab services at the hospital and in the surrounding community. Gulas also serves Maryville as a Professor in the University's highly regarded Physical Therapy program. He is a Board Certified Geriatric Clinical Specialist and specializes in wound management.
At the national level, Gulas has been involved with The American Physical Therapy Association in the Geriatrics, Education, and Health Policy and Administration sections, as well as the Advisory Panel on Practice, Committee on Cultural Competence and Central Application Service. A member of the House of Delegates for 12 years, organizers have invited Gulas to take part in the APTA Summit on Physical Therapy and Capitol Hill advocacy events. His leadership as president of the Missouri chapter from 1999 to 2002 allowed the group to move its strategic plan forward, as they promoted education, legislative involvement, programming and increased membership enthusiasm.
Gulas said, "I am honored and humbled by being chosen for this award. It has been a blessing to have the opportunity to serve with so many talented and giving colleagues who have believed in me and cared enough to provide encouragement and be mentors. Receiving an award from friends who give so much to our association is extremely meaningful."
 
Maryville's Vice President for Academic Affairs Mary Ellen Finch, PhD, said, "Chuck is a stellar dean, and a wonderful model of what a physical therapist and a Dean of Health Professions should be. He has, and consistently does, give immense amounts of his own time to help others in local, national and international communities. I can't think of anyone more deserving of this award."
About The APTA's Lucy Blair Service Award
The American Physical Therapy Association established the Lucy Blair Service Award in 1969 to honor the contributions of Blair, who served the association from 1950-1969 as Poliomyelitis Consultant, Chief of Professional Services, Associate Director and Executive Director. During the polio epidemic in the early 1950s, Blair directed the role of the association and the profession in evaluating the efficacy of gamma globulin and, later, the polio vaccine. She had personal contact with several hundred physical therapists in forty states and in Canada, which strengthened the quality of physical therapy services overall. Each recipient of the award receives a pin with three stones that represent Blair's dedication, devotion and outstanding service to the American Physical Therapy Association.
About Maryville University
 
Maryville University, founded in 1872, moved to the national universities category of U.S. News & World Report this year. It is one of three institutions in the Greater St. Louis Area ranked in this division. Kiplinger's Personal Finance ranks Maryville in the Top 100 Private Universities in the U.S. for Best Value.