2010-2011 St. Louis Speakers Series Announced
---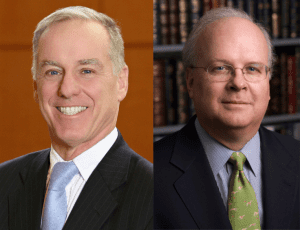 4/8/10
The St. Louis Speakers Series, presented by Maryville University, features an impressive lineup of authors, journalists and leaders for the 2010-2011 season, including political heavyweights Karl Rove and Howard Dean, who will take part in the series' first-ever debate.
Held at Powell Symphony Hall, the series begins on Oct. 5, 2010, with Fareed Zakaria, editor of Newsweek International, followed by best-selling author Elizabeth Gilbert, celebrated pediatric neurosurgeon Ben Carson, former presidential speech writer Peggy Noonan, journalist Lisa Ling and environmental advocate Robert F. Kennedy Jr. The series' final presentation will be a debate between former Bush advisor Rove and former Democratic National Committee Chairman Dean.
"This year is going to be different than any other year we've had before," said Bill Conrow, president and founder of the series. "While all of our speakers are unique, we are extremely excited about the introduction of a debate with two of the most well-known and highly respected men in the political world. It is our hope that this is just the first of many powerhouse debates to come to the series in the future."
"This season provides an incredible opportunity for the students, faculty and St. Louis community to hear some of the great thinkers and leaders of this time," said Mark Lombardi, PhD, president of Maryville University.
Closing out the series on April 19, the face-off will feature individual commentary by Karl Rove and Howard Dean as they discuss their personal experiences in the political realm. Rove is former deputy chief of staff and senior advisor for the Bush administration and Dean is a former Vermont governor and candidate for the 2004 Democratic presidential nomination. In true form, the debate will include an opportunity for each to respond to the other's presentation, as well as a period for audience questions.
Other speakers include:
Oct. 5 – Fareed Zakaria, New York Times Bestselling author of "The Future of Freedom" and "The Post American World," will discuss his role as editor of Newsweek International, which reaches an audience of 24 million people worldwide. In addition to writing a regular column for Newsweek and The Washington Post, he is the host of CNN's "Fareed Zakaria GPS."
Nov. 9 – Elizabeth Gilbert has been dubbed a "rock star author" by Oprah Winfrey. Her novel, "Eat, Pray, Love," spent more than 155 weeks on the New York Times Best-Seller List and has sold more than 6 million copies. Gilbert's latest book, "Committed: A Skeptic Makes Peace with Marriage," also is a New York Times Best Seller.
Nov. 30 – Presidential Medal of Freedom recipient Ben Carson will enlighten attendees on his experience of overcoming poverty and becoming the world-renowned director of pediatric neurosurgery for Johns Hopkins Hospital at the age of 33. His life story recently was portrayed in the motion picture "Gifted Hands" starring Cuba Gooding Jr.
Jan. 27 – Wall Street Journal columnist Peggy Noonan is the author of seven books written about American politics, history and culture. With essays appearing in the New York Times and the Washington Post, Noonan served as chief speechwriter during George H.W. Bush's campaign for presidency.
Feb. 22 – Field correspondent for "The Oprah Winfrey Show," Lisa Ling will launch her own series on The Oprah Winfrey Network later this year. Currently host of "National Geographic Explorer," Ling will discuss her passionate and in-depth coverage of international stories, many of which are overlooked by the mainstream media. Ling spent several years as a host of "The View" earlier in her career.
March 22 – Robert F. Kennedy Jr. has written extensively on environmental issues and has taken on government and corporation giants for their part in polluting the environment. An individual who has been described as "committed to a positive difference in the quality of life for present and future American generations," Kennedy will discuss his role as a defender of and advocate for the world around us.
All of the presentations, with the exception of Noonan's, will take place on Tuesday nights at Powell Symphony Hall, beginning at 8 p.m. Tickets are sold by series subscription only and prices range from $285 to $420 per person. Interested parties are encouraged to contact the ticket office as soon as possible to order their seats.
For more information, visit stlouisspeakersseries.org or call 314.533.7888.
Presented by Maryville University, the series also is sponsored by the law firm Gallop, Johnson & Neuman, L.C., PBS station  KETC-TV, St. Louis Public Radio KWMU (90.7 FM), and The St. Louis Regional Chamber and Growth Association.
Maryville University is a private institution located in west St. Louis County. Ranked by U.S. News & World Report as one of America's Best Colleges in the Masters-Midwest category, Maryville University students may choose from 50 academic programs, including degrees at the bachelor's, master's and doctoral levels. Among recent graduates, 82 percent are employed or attending graduate school. More than 16,000 Maryville alumni work and live in the St. Louis region. For information, visit maryville.edu.