Pulitzer Prize winner Jon Meacham to speak at Maryville University's graduation
---
April 3, 2014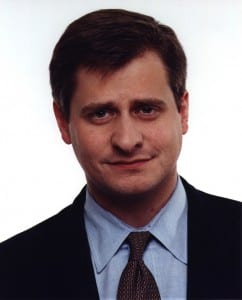 St. Louis   — Pulitzer Prize-winning author and contributing editor at TIME, Jon Meacham, will speak at Maryville University's commencement at 10 a.m. Saturday, May 3, at The Family Arena in St. Charles.
In December 2012, Mr. Meacham, came to St. Louis for Maryville Talks Books to discuss his No. 1 New York Times bestseller, Thomas Jefferson: The Art of Power.  Mr. Meacham's previous work, American Lion: Andrew Jackson in the White House won the 2009 Pulitzer Prize for biography. His other New York Times bestsellers include Franklin and Winston: An Intimate Portrait of an Epic Friendship and American Gospel.
"We are honored to host Mr. Meacham and to have our graduates hear from one of the finest historians and thinkers of our time," said Maryville University President Mark Lombardi.
Mr. Meacham is a member of the Council on Foreign Relations and the Society of American Historians. He is a regular guest on Morning Joe and has appeared on Meet The Press and The Colbert Report. He presented his "In Perspective" essays and conducted interviews on PBS' weekly public affairs program, Need To Know.
In addition to his work as a historian, Mr. Meacham has served as Executive Vice President and Executive Editor at the Random House Publishing Group.  Mr. Meacham also edited the Politico Inside Election 2012 e-book series. He is currently at work on a biography of President George H. W. Bush.
Born in Chattanooga in 1969, Mr. Meacham holds a B.A. in English Literature from The University of the South in Sewanee, Tennessee. He now serves on the university's governing Board of Regents. He is a "Global Leader for Tomorrow" of the World Economic Forum in Davos, Switzerland.
Mr. Meacham will receive an honorary doctorate from Maryville University.  Maryville will graduate more than 900 students in the ceremony, which will recognize candidates for bachelor's, master's and doctoral degrees.
Maryville University is a selective, comprehensive and nationally ranked private institution with an enrollment of 5,033 students. Maryville offers more than 75 degrees at the undergraduate, masters and doctoral levels to students from 46 states and 30 countries. Consistently ranked as a top private school by Forbes and Kiplinger's, in 2012 and 2013, Maryville was named the No. 1 Overperforming University in the nation by U.S. News & World Report. Maryville's athletics teams compete at the Division II level in the Great Lakes Valley Conference. Founded in 1872, the University is ideally situated on 130 picturesque acres in West St. Louis County.
Media Contact
Janet Edwards, Marketing and Community Relations: 314-529-9347; jedwards@maryville.edu.